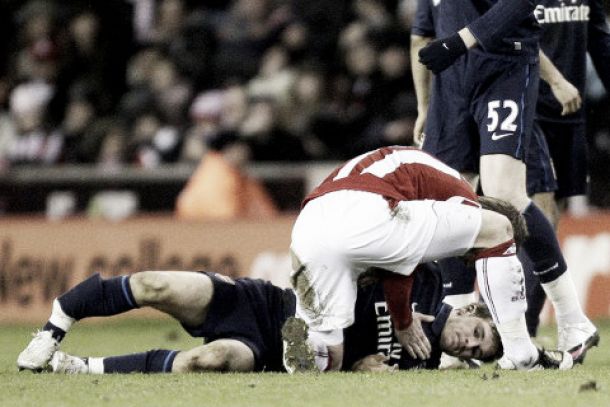 Stoke City will always be a very eventful game in the Arsenal calendar due to not only Arsene Wenger's insults directed at the club, but the injury sustained by Aaron Ramsey in a match against the Potters.
Mark Hughes' men are set to visit The Emirates on Saturday afternoon with, Ramsey likely to start after becoming one of Arsenal's most important squad members over the last few seasons after his rehabilitation from his infamous leg break.
It was a recovery story which was not without its struggles, there were times when it seemed as if the injury had took a larger toll on the Arsenal midfielder than first thought. Prior to the injury he was becoming a key member of Arsenal's first team after his move from Cardiff City and his influence in midfield alongside the likes of Cesc Fabregas was becoming more apparent, could he reach these highs once again?
A tough process for Ramsey
The rehabilitation process for Ramsey was a long and arduous task over a nine month period but the club and fans stood behind their man. In early 2011, Fabregas was ruled out of for the game against Manchester United which allowed Ramsey the opportunity to start what would be only his second game of that season at that time. It would prove to be a pivotal moment in his comeback as he put in a composed display at only 20 years of age, topping it off by slotting home the winner.
After his success against United, Ramsey found more first team opportunities but he struggled to replicate the form he had shown before his injury. Criticism from fans and being played out of position began to affect him during the 2011/12 season and he was unable to replicate the creativity exerted by the departed Fabregas.
Ramsey was the subject of a failed midfield experiment by Wenger for a while but started to put in some more assured performances when called upon in the latter stages of the 2012/13 season.
Being used often in a deeper role due to the presence of new signing Santi Cazorla allowed Ramsey to help rebuild his slightly tarnished reputation and reminded the world that he was a supremely talented midfielder - he even received the Arsenal player of the month accolade in the month of April.
It seemed he had found a partnership that worked alongside Mikel Arteta as both worked in tandem balancing their attacking instincts with a new found defensive nous. 2012/13 set the platform for what was to be an explosive next campaign for Arsenal's Welsh midfielder.
He finally kicked on
2013/14 from an Arsenal perspective will always be remembered as Ramsey's year, the midfielder was in unstoppable goal scoring form, overshadowing new £42m signing Mesut Ozil and becoming one of the Premier League's most feared players. His goals took Arsenal to the top of the table and it looked as if the Gunners were finally going to mount a serious title challenge with Ramsey leading from the heart of midfield.
Sadly, a thigh injury suffered during the Christmas period ruled him out for up to three months and Arsenal's season imploded thereafter. They dropped down the table and were looking unlikely to even qualify for the Champions League but managed to oust Everton in the end. A winning goal in the FA Cup final was a just reward for one of the players of the season.
Many thought Ramsey would build on his successes from the previous campaign, but he struggled to live up to the hype and his season was once again disrupted by a series of niggling injuries. His positon in the heart of midfield was taken over by Cazorla who began to forge a perfect midfield tandem with a newly reformed Francis Coquelin, so Ramsey was often used out wide to accommodate this.
He did produce some fine displays in this role, most notably in the 4-1 home demolition of Liverpool but he was still unable to regain the form that seemed to be shaping him into a world star. He would go on to lift another FA Cup, but his grip on the team seemed to be slipping once again.
What next?
Ramsey has made himself into one of Arsene Wenger's most important players with his tireless energy and work rate but his contribution to the team has been inconsistent since his return from injury. His form has been erratic so far this season with his position still seemingly unknown. He has become one of the Premier League's star players and he truly is one of the comeback kids of his generation of players, a good performance against Stoke will help remind everyone of just how good of a player he really is.