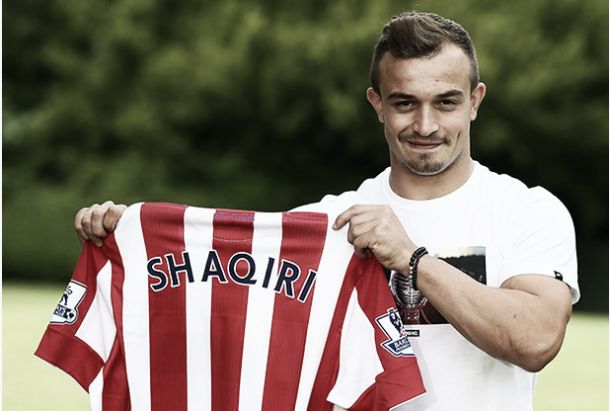 There is little value in the transfer market these days, meaning many mid-table clubs have players that could easily play for a bigger club, and maybe Xherdan Shaqiri and Arsenal is a key example of this.
It may be simple, but if you believe that the Gunners need a proper right sided player, Xherdan Shaqiri would be the player that instantly comes to mind. Shaqiri, a pacey right midfielder/winger has been a journeyman recently. He has been on 3 teams in the past calendar year, Bayern Munich, Inter Milan, and Stoke.
Not used properly at other big clubs?
Shaqiri was sold to Inter Milan from Bayern because he was not being utilized at Bayern. He was massively out of favour to the likes of Arjen Robben, Thomas Müller, Franck Ríbery, and Mario Götze. Even with injuries to a couple of those players he still could not get into the team.
Shaqiri played a decent amount for Inter, but over the summer, they decided to complete a remodling of their squad. Shaqiri was one of the many to go.
Many teams were interested, but surprisingly, Inter and Shaqiri both had interest in Stoke. This was very out of nowhere considering Stoke have not been known to go out and make signings like this. Shaqiri was their record signing of £12 million. Stoke have brought in a lot of ex-Barcelona players, such as Bojan, Ibrahim Afellay, and Marc Muniesa. They have been known to bring in players that used to be on bigger clubs, that would not get a lot of playing time, such as Joselu from Real Madrid.
Where can he play?
If Shaqiri went to the Gunners they would be bringing in a very versatile player who can play almost anywhere in an attacking position. He can be a creator in attacking midfield, he can play up front, or he can play at his most natural position right wing/right midfield. It can also be said that Stoke don't have much that Arsenal need, however, Aaron Ramsey is not a through and through right winger. Theo Walcott prefers to play in a more central role, and there is debate if Alex Oxlade-Chamberlain is good enough to get in the side.
For one that doesn't know what Xherdan Shaqiri brings to the table, for Bayern he made 52 appearances and scored 10 goals and had 11 assists. That may not sound so spectacular, but for a vast amount of his appearances, he came on as an impact sub. With that much contribution in not that much time is very impressive for someone playing with one of the top clubs in the world.
As good as Ramsey is, Shaqiri could be a step up because he has more experience playing for other clubs, and also is slightly more skillful than Ramsey and that could provide a creative boost for the Gunners if he was in their side.