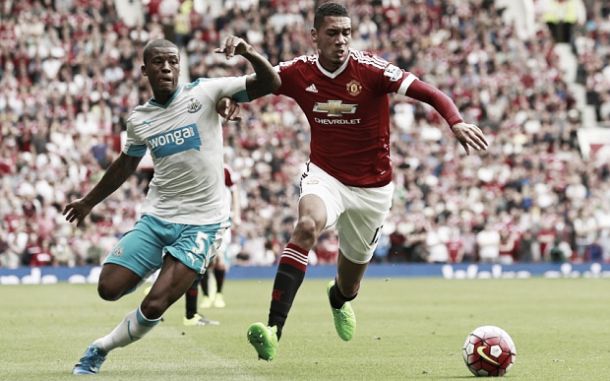 When Louis van Gaal took the reins at Manchester United in the summer of 2014, the club's defence was in tatters. The stalwart partnership of Nemanja Vidic and Rio Ferdinand had left as they both began to decline toward the end of their careers, and the development of Phil Jones and Chris Smalling had never materialized as planned by Sir Alex Ferguson. But just over a year on, the United defence is now arguably the strongest part of the team. So, what caused this transformation?
Manchester United's defence has been a real highlight of their season so far; just 2 goals conceded so far in the premier league - both in the defeat to Swansea - shows the solidity that has developed at the back. It is a marked contrast to last season, where there were mistakes aplenty, every opposition attack looked likely to carve the defence open and 10 goals were conceded in just the opening 6 games of the premier league. If it wasn't for the consistent heroics of David De Gea - whom the backline haven't been able to rely upon so far this season due to his mooted move to Real Madrid - that statistic could have been far worse. The quartet of Matteo Darmian, Chris Smalling, Daley Blind and Luke Shaw have impressed immensely without the talismanic Spaniard behind them, for a number of key reasons.
Chris Smalling's meteoric rise
The rise of Chris Smalling since the turn of the year has been nothing short of miraculous. After his infamous sending off against Manchester City in November, the Englishman was shunned by Louis Van Gaal and it appeared almost certain that his faltering United career would end in the following summer. However, injuries allowed Smalling to regain his place in the team and he grasped the opportunity with both hands. Consistently turning in excellent performances for both club and country, he resurrected his Old Trafford career and firmly cemented himself at the heart of the United defence.
His aggressive aerial play and impressive reading of the game have led to him having a higher percentage of total duels won than the likes of John Terry and Vincent Kompany, whilst also having the most interceptions per minute of the three. Go back to this time last year and it was a completely different ball game, with Smalling a panicked figure on the ball and a defender lacking maturity. His remarkable rise - along with not suffering injury setbacks as he had in the past - has allowed Louis Van Gaal to trust in the 25 year-old and build a defence around him.
United finally have two great full backs
But it is not just the centre of defence that has improved this year. New signing Matteo Darmian and 20 year-old Luke Shaw have provided brilliant play in the full back positions. After a tough first season at Old Trafford that was hampered by injuries, Shaw had a lot to prove this season. Boy, has he responded. Performances that have more than proved his reputation as one of Europe's hottest young talents, the former Southampton man has combined no nonsense defending with some marauding runs down the left flank. Three assists in England's two games against San Marino and Switzerland this week give an indication as to how well Shaw is improving.
And on the other side, Matteo Darmian is turning out to be a brilliant signing. The Italian has been equally solid defensively and has provided much needed width on the right hand-side when Juan Mata drifts inside. What impresses me most about Darmian – and Shaw for that matter – is that they are both defenders first and attackers second. It is a development in modern football that full backs have lost the art of defending and focus merely on supporting in attack, but United's fullbacks ensure they do their defensive job to a high standard. Darmian's arrival has solidified United's defence eve further and at just £12.7 million the former AC Milan full back looks to be an absolute bargain.
Mention must also go to Daley Blind. When Louis Van Gaal confirmed that the Dutchman would be starting at centre back for the opening part of this season, it was met with much animosity by United fans. But it has turned out to be a very good decision, as Blind has performed admirably and is beginning to form a good partnership with Chris Smalling. For a relatively small man, Blind wins his fair share of aerial battles and his reading of the game is exceptional. He also adds a touch of class when stepping out of defence with the ball at his feet, shown by his assist for Memphis' second goal against Club Brugge at Old Trafford, and is thought to be a big reason why Van Gaal opted for Blind as his centre back this season
Manchester United's attack may be stuttering this season, but the defence has been the polar opposite. A series of exceptional performances by all four of the back line have ensured that United's results haven't suffered too much in spite of a lack of goals. As Sir Alex Ferguson once said: "attack wins you games, defence wins you titles". It seems the current Old Trafford side has the most important part well and truly sorted.