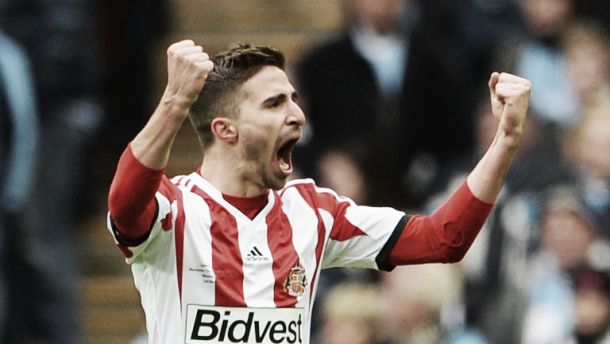 Fabio Borini looks set to play the central striker role at Sunderland this season.
Borini arrived from Liverpool in the final few days of the transfer window, and is expected to replace Jermain Defoe in the middle of the front three in Dick Advocaat's preferred 4-3-3 formation, pushing the England international out wide.
Defoe not a lone striker, believes manager
Advocaat has persisted with his 4-3-3 set-up this season, with Defoe playing through the centre of the front line, but has publicly stated that he does not believe the former Tottenham Hotspur man can play in this role.
After Sunderland's opening day defeat to Leicester City, despite Defoe scoring, the manager said after the match that he "can't do it on his own upfront."
He conceded that Defoe could perhaps perform "in a [front] two," which he did later in the game when Steven Fletcher was introduced off the bench to support him, but Advocaat stood firm in saying that he cannot play up there "on his own."
Sunderland were keen to bring in a target man to operate in the role instead, but they failed to do this in the transfer window, with interest in the likes of Sébastien Haller and Adrian Ramos failing to materialise into anything more - though the latter reportedly flew out for a medical, only for the deal to collapse due to disagreements over the player's cost.
Borini was brought in instead, and, despite the Italian playing out wide for the majority of his loan spell on Wearside in the 2013-14 season, Advocaat appears to prefer him in a central striker role, even deploying him in this position for a behind-closed-doors friendly against Hartlepool United during the international break.
Could Defoe play deeper?
During pre-season, Defoe played out wide a few times, yet he emphasised his frustration in the role, stressing that he is not a winger but instead a centre forward.
The veteran striker does bring some positive attributes to the position, in that he tracks back and understands what type of pass his teammate through the middle is looking for, but it means the amount of chances he is likely to receive is decreased, and thus his finishing ability is not fully utilised.
However, one role that Defoe could play in instead is an attacking midfield, or number 10, role.
Again, his knowledge of what ball the striker is looking for would be effective, whilst the central position would allow him to get on the end of chances too.
Either way, both he and Borini are likely to start at the weekend against Spurs, and thus then we will see just how Advocaat plans to include them both in the team.