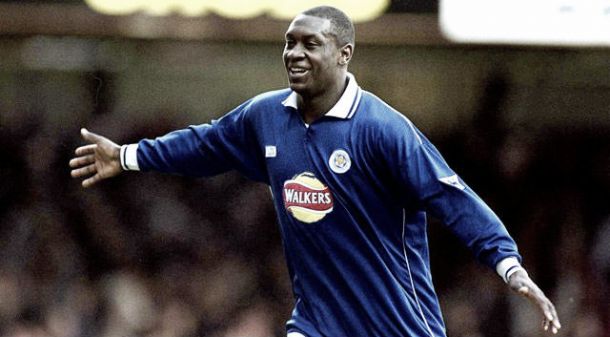 In July 1998, Ian Wright (at the age of 34) decided his time was up at Highbury and left Arsenal for West Ham United for a fee in the region of £500,000. This left Arséne Wenger short up-front, with just Dennis Bergkamp, a young Nicholas Anelka and Christopher Wreh left as goal-scoring options. As a result, the manager decided to dip into the transfer market and recruit a new striker. This led to the Gunners enquiring about none other than then-Leicester City striker Emile Heskey.
Arsenal were close to signing Heskey
This story is one which not many people remember/know about, despite the fact it was widely reported by a number of media outlets in August 1998. If you asked him now, I doubt Wenger still remembers the Heskey link! Nowadays, just the idea of this transfer would lead to a Twitter meltdown. However, you have to remember that back in 1998, Heskey was one of English football's biggest young talents, and interested a host of different clubs, such as Leeds United, Tottenham Hotspur and Liverpool. In 1997, he was instrumental in helping the Foxes to clinch the League Cup - as well as finishing the 1997/98 campaign as the club's top scorer with ten goals in the league.
Heskey was an integral figure for Leicester at the time
Heskey's ability to both score and unselfishly create goals was a big factor to why he was so sought after, and Leicester's then-manager Martin O'Neill fought tiredlessly to keep him. Wenger, after watching Heskey tear his defence to pieces, said in an interview that he was "impressed" with Heskey, in particular the player's work-rate. When Heskey was asked about Arsenal's interest in him, he said he was "flattered" but was unsure about his future.
Heskey, whose childhood hero was indeed Ian Wright, ultimately decided to stay at Leicester and not replace his hero at Arsenal, signing a two-year deal with the club in September 1998. It wasn't all bad for Arsenal, though, as this situation turned out to be a blessing in disguise - in January 1999, six months later, Arsenal signed Kanu from Inter Milan, a player who would become favourite among Arsenal supporters. In 2000, Heskey signed for Liverpool for a then-club record of £11million, where he spent four years, before becoming a club journeyman and gaining bonafide internet notoriety among English football fans for his often below-par performances as he struggled upon occasion.