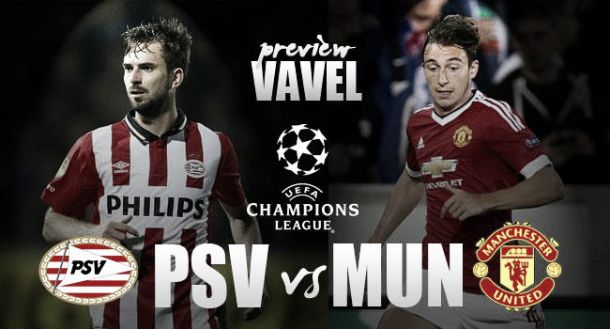 In foreground of this meeting on first UEFA Champions League group stage matchday is definitely the return of Memphis Depay to his former club PSV Eindhoven, who joined Manchester United this summer for a £24.6m transfer fee. Last season's Netherlands title winners, PSV Eindhoven, host last seasons fourth placed team in the Premier League, Manchester United in Philips-Stadion.
Unbeaten PSV Eindhoven
The season started pretty well and after five Eredivisie matches PSV Eindhoven are in fourth position with three wins, two draws and no loss. The Dutch champions scored just as many goals as Ajax Amsteram did, both teams scored 14 goals in the first matches of new season.
Eindhoven's season start against ADO Den Haag ended only with a 2-2 draw, but on second matchday they got three-points after beaten Groningen with 2-0 in the first home match. Another draw followed one week later against Heerenveen, where PSV didn't reach more than a 1-1.
Before the international break Eindhoven faced Feynerood Rotterdam and won 3-1 and on last matchday the team made a very good impression and showed a great performance with a 6-0 win over Cambuur.
Overall Eindhoven is in a good form and is definitely ready to suprise the Red Devils.
Red Devils are back in European competition
Since 1989/1990 Manchester United had never missed any European competition, but last season they were not in any and watched last European season only in front of television. Thank to last season's fourth place in Premier League, United were allowed to take part in the qualifies, where they beaten Club Brugge with 7-1 on aggregate.
Red Devils strengthen themself with Bastian Schweinsteiger, Matteo Darmian, Memphis Depay, Morgan Schneiderlin, highly-talented Anthony Martial and a few more. Currently the team is in a good form and is in the third position after five league matches. Three wins, one draw, one loss and ten points are in Manchester United's account.
The first match of the new Premier League season was won against Tottenham Hotspur with 1-0 thank to an own goal by Kyle Walker. Another three points got United with a 0-1 win over Aston Villa, it was Adnan Januzaj who scored the winner in 29th minute. A 0-0 draw against Newcastle United followed on third matchday and first loss of this season was against Swansea City on fourth matchday. The last match was against Liverpool as United won again and Anthony Martial scored his first goal on his debut after a super solo run and the match ended 3-1 in Old Trafford.
Thoughts on upcoming match from coaches and players
Einhovens coach Phillip Cocu and and captain Luuk de Jong talked in a press conference about the upcoming match. The coach said that "PSV is not afraid of Manchester United and they have no intention of throwing in the towel before the match even started."
Luuk de Jong is looking forward and feels happy about playing in Champions League. "This is a beautiful podium to show the world what you can do. It is a nice game to play and we are facing an amazing opponent", the 25-year-old said. He also added that "it would be fantastic if Eindhoven could spring a surprise."
Manchester United's coach Louis van Gaal was crucial and spoke of a "challenge" and the players "have to show on the pitch if they are good enough to win matches at the highest level". The Dutchman is not sure if his players are able to persist Champions League, but "he has to wait and see."
Memphis Depay got asked by many journalists how he would react when he would score a goal against his former club PSV Eindhoven. He answered that he has "respect for his former club", but he will definitely celebrate the goal, because "football is a game and scoring is special."
Expectation
Wayne Rooney will miss the match against PSV Eindhoven, because of a minor injury. The absence of England's all time top scorer is playing into Eindhoven's hands, but the Dutchmen have to give their best to persist against Red Devils. Memphis Depay is making a good impression in last weeks and he could definitely ace his former club out and the English also have the little upper hand in this match, because United is looking good and got a morale boost with the last win over Liverpool.