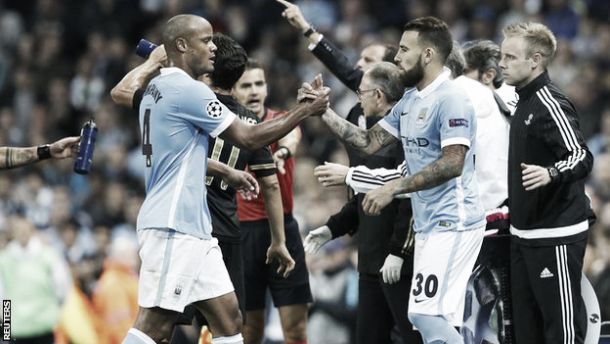 Manchester City defender and captain Vincent Kompany has publicly stated that there is no reason for the Citizens to panic, in the aftermath of their disappointing 2-1 defeat on Tuesday night.
In their opening UEFA Champions League fixture, they took the lead through Giorgio Chiellini's own goal – but two second-half goals in the space of eleven minutes by strikers Mario Mandzukic and Alvaro Morata meant the hosts suffered bitter defeat against the Serie A giants.
City dominate, but falter in-front of goal
Having had their fair share of opportunities on-goal, you'd have felt they should have done better with the goal-scoring chances they'd created. Instead, they were frustrating in-front of goal, and Massimiliano Allegri's men took advantage to devastating effect.
Meanwhile, the skipper was substituted with twenty minutes to play in place of the club's £32m summer signing, Nicolas Otamendi. Although initial fears suggested he could be injured for a sustained period of time, the towering Belgian has reassured supporters that he was replaced only as a precautionary measure with his calf problem being iced on the substitutes' bench shortly afterward.
Kompany eager to keep positivity after encouraging display
As for their previously poor starts to Champions League campaigns, Kompany was quick to state that although they were defeated, they still could take plenty of encouraging points from the loss itself with fifteen points left to play for in the Group of Death.
As quoted by the Manchester Evening News, he said: "We have started our Champions League campaign in a totally different way than the last few years, in-fact there's no problem after this defeat. I'm less worried than in previous years. It was not a panic game and we didn't have the feeling that we didn't know what to do."
He continued, praising the opposition by saying that Juve are "smart Italians", but they themselves "could have finished it [the game] off earlier" if they were clinical with their chances.
"We just played against a tough opponent, the finalist of last season. They were very efficient – they buried the game in a very good way."