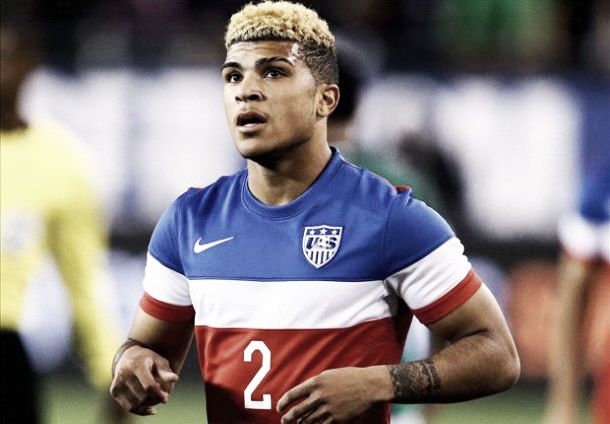 DeAndre Yedlin joined Sunderland on a season long loan deal from Tottenham Hotspur late in the transfer window, and is yet to make an appearance for the Black Cats.
Having only played one game in England since signing for Spurs in the last January window, there have been some raised eyebrows as to whether he is up to the task of playing at this level, or if his fitness is ready to cope with the demands, but he believes he is ready and is keen to get going.
Hungry for a chance
The full back made the move to join Dick Advocaat's side for one purpose, first team football, to help continue with his development, and that is exactly what he is looking for, telling the Chronicle Live that he "want[s] to show what [he] can do [at Sunderland], and hopefully improve."
Having been ineligible to play against Spurs due to the restrictions on his loan deal, Yedlin is now hungrier than ever to kick start his time on Wearside, hopeful of getting "opportunities" and stating that, when he "get[s] [his] chance," he will have "to take it and prove [himself]."
The club's defensive errors have been well documented so far this season, and should he get his opportunity, and take it, Yedlin could prove to be a huge factor in Sunderland's relegation battle.
Yedlin prepared for the challenge
Having left Spurs, a club who will be looking for European football, to join a struggling Sunderland side, life will be slightly different for the USA international. But given his lack of game time in London, fighting for each and every point at the bottom of the league could prove to be exactly what he needs.
The defender is well aware of the difficulty he will face at Sunderland, simply just getting in the team, recognising that "it's not going to be easy, not by any means," and that it will be "hard work every day."
It appears though that he is prepared and ready to fight for a place, and prove to both Advocaat and the Sunderland fans that he belongs, saying that he is "looking forward to the challenge," showing fighting spirit that might be exactly what the club needs in it's attempt to avoid the drop once again.
Whilst people have questioned his fitness, he believes that is not something that people need to worry about either. Having just played two full international games, Yedlin claims he is ready for 90 minutes, saying that he has "those games under [his] belt," so he thinks he "can play 90 minutes in the Premier League."
Encouraged by what he has seen
Having had to watch the defeat to Spurs from the side-lines, Yedlin, like many, was impressed by what he saw, calling it "a great game."
This weekend, Sunderland take on Bournemouth in a fixture that many Black Cats fans will be hoping to see their teams first victory of the season in, and Yedlin shares that mind-set, concluding by saying that, if the team "can build on [the Spurs] performance" then he thinks they have "a great opportunity to win."