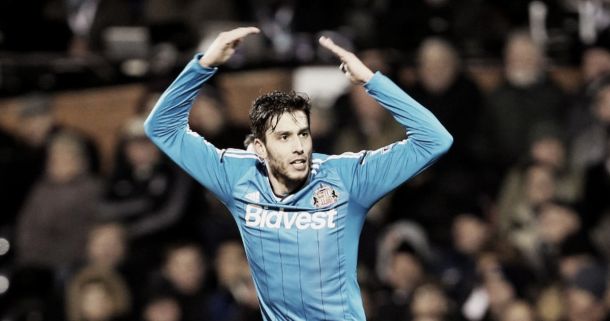 FC Porto are interested in Ricky Alvarez, according to reports coming out of Argentina.
The story emerging claims that Alvarez is travelling to Portugal to complete a move to the club, having apparently been made a free agent by FIFA.
It is reported that his contract with Internazionale has been rescinded, following a dispute with Sunderland over a proposed obligation to buy after a loan spell on Wearside, and now he is free to join a new club.
Sunderland refuse to buy injury-plagued Alvarez
Alvarez joined the Black Cats on loan for the 2014-15 season, but was unable to make a real impact at the Stadium of Light due to a knee injury.
Sunderland claim that his parent club, Inter, delayed their response when asked if the player was allowed to undergo surgery for the problem, which prolonged his spell on the sidelines and further limited the impact he could have on the team.
Thus, when the end of the season came and the Premier League club had met the criteria that meant they had to purchase Alvarez for £8 million - by avoiding relegation - they refused to pay the fee to Inter, due to them not allowing him to have treatment soon enough.
The two clubs could not settle the disagreement between themselves, and therefore have had to take the case to FIFA.
Several interested parties, despite situation
Whilst one may have thought that Alvarez's complicated situation and his recent injury woes may have deterred clubs from wanting to offer him a way out, there has been plenty of interest in the Argentine international.
In his home land, San Lorenzo were heavily linked with a move for the 27-year-old in a bid to strengthen their title challenge, whilst River Plate were also rumoured to be monitoring his situation.
However, Porto have now emerged as front-runners in the race for his services.
Whilst Alvarez may relish a return to Argentina, where he initially shone to earn a move to Europe, the chance to play in the Champions League with one of the continent's most illustrious clubs is likely to be a more tempting offer.
Still, whilst the player's agent, Marcelo Simonian, has announced that his client is officially a free agent, FIFA have yet to confirm this, and so a potential move anywhere remains up in the air for now.