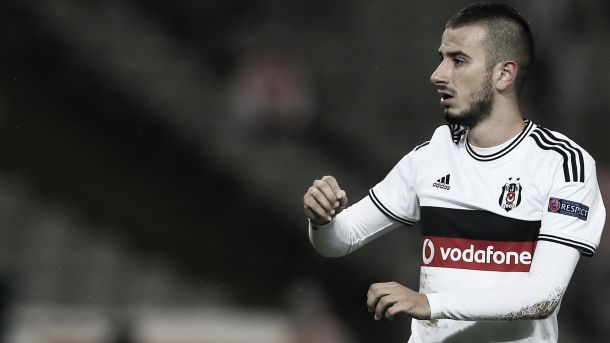 Arsenal have a reputation for producing some great young players. A reputation which Wenger has helped to build and maintain, and although many of these players leave the club before making a first team start they can be found littered across the globe at various levels of the footballing pyramid. Below is a look at a select few individuals that are starting to build careers for themselves in top European leagues after being released by the club.
Oguzhan Ozyakup:
The Netherlands born Turkish international was at Arsenal between 2008 and 2012. He left Arsenal just before his 20th birthday to join Besiktas in the Turkish Super Lig. Ozyakup only made two appearances for Arsenal, both as substitutes, both in the League Cup and both in the 2011/12 season. However, he did manage to register an assist for Benayoun against League Two Shrewsbury.
Since leaving Arsenal he has done well and started to really establish his career. In what is his fourth season at Besiktas he has an impressive record of 105 appearances in all competitions with 13 goals and 27 assists. Not bad for a 23-year-old central midfielder. He also featured, and picked up yellow cards, in each leg of the Champions League qualifier against Arsenal, where his new side lost 1-0 on aggregate last season. In true Arsenal fashion, the player then went on to help the Turkish side top a Europa League group featuring Tottenham and knock out Liverpool in the Round of 32.
After representing Netherlands and Turkey at youth levels he opted for the latter and has become a regular in the squad, making 12 appearances to date, scoring his first international goal earlier this month against Netherlands, naturally. His career has progressed well since leaving Arsenal, and given his young age you would expect to see him around the European and international scene for a while to come.
Havard Nordveidt:
The promising Norwegian defender signed for Arsenal in 2007. Nordveidt went on to captain the reserve side, but never made an appearance for the senior team. In his time at the club he made three loan spells across Europe before reluctantly being sold to Borussia Monchengladbach during the 2010/11 season.
The defender has since changed to play a more defensive midfield role and has featured heavily for his new club from the outset. He has made 144 appearances for the Bundesliga side, scoring eight goals. This includes a Europa League run in the 2012/13 season and a third place finish in the Bundesliga last year to give the club automatic qualification to the Champions League for the first time. He's also established himself as a mainstay in the Norwegian side with 24 caps, after working his way through the various youth levels.
At the age of 25 Nordveidt is playing in the Champions League and on the international stage. His career has progressed well, but the remainder of this season could prove pivotal. With the Gladbach head coach resigning after a dismal start to the season and the club finding themselves bottom of the Bundesliga with five defeats in five, it is set to be a challenging season for the Norwegian and one which could shape his future path.
Emmanuel Frimpong:
Frimpong was a cult hero at Arsenal. The fan-turned-player, with his 'DENCH' brand and aggressive style of play, was meant to be the club's next big defensive midfielder. At one stage it was even thought that Frimpong and Wilshere would be the future of the Arsenal midfield, but two cruciate ligament injuries in just over two years took their toll and the player never again showed the promise he once had.
The single capped Ghanaian did make 16 appearances for the Gunners but, despite his high energy and spirited performances, his lack of discipline was always a barrier to becoming a top player. In January 2014 he signed for Barnsley, only to be shown the door four months later when the club were relegated from the Championship.
In September 2014 the player found his third club in 12 months, signing a three year contract with Russian side FC Ufa. He featured 17 times for the club in his first season, helping them finish one point above the relegation places. In 2015/16 he has featured four times, after a turbulent start to the season where he saw himself banned after being subjected to racial abuse. The club find themselves bottom of the Russian Premier League with close to a third of the season played.
A career which started with so much promise has been hampered by injuries and poor discipline. The player who was once touted as Arsenal's answer to Michael Essien looks set to fade into obscurity. This is not one Wenger will regret letting go.
Nacer Barazite:
The Dutch attacking midfielder joined Arsenal at the age of 16, signing a professional contract a year later. In his five years at Arsenal Barazite featured only three times, all of which were in the League Cup. The highlight of his Arsenal career came at a successful loan spell to Derby Country, where he featured 36 times.
Since leaving Arsenal in 2011, the player has been somewhat of a journeyman. He started with a very successful year at Austria Wien, where he scored 23 goals in 50 games, 11 of which came in 12 Europa League matches. This helped to secure a move to then Ligue 2 side, AS Monaco, where his career somewhat stalled. After only 12 appearances in 12 months, he went back to Austria Wien on loan and helped them to their first league title in seven years.
The former Arsenal midfielder now plays for FC Utrecht. After a season amongst the substitutes, he has now secured a place in the side starting all six league games so far this season. At the age of 25 the player seems to have finally settled and can build on what began as a promising career. It wouldn't be a surprise to see him earning the odd Dutch cap too, but it's unlikely there will be top teams sniffing around anytime soon.
The players above are just a snapshot of the midfield talent the club has fostered and released over the last five years. There's plenty more who have not made the cut – Henri Lansbury, Kyle Ebecilio, Fran Merida – to name a few. All it goes to show is that potential is no guarantee for success, and at such a young age it is about more than just talent. Even the best heads in the business can struggle to decide who to keep and who to move on, it was only a year ago that a certain Francis Coquelin came close to joining this list. And that is what makes the youth policy worthwhile.