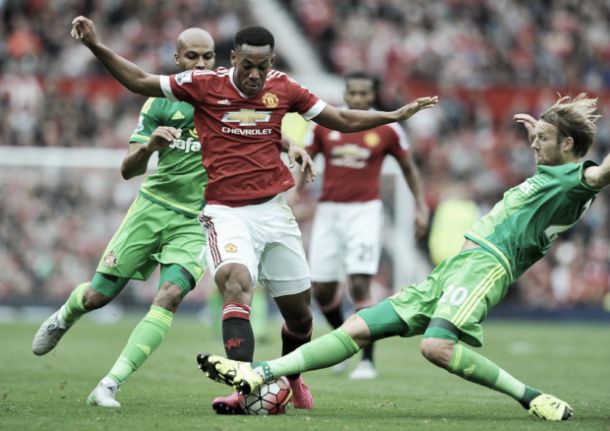 Sunderland manager, Dick Advocaat, has admitted that he can't continue to sound like a broken record with their thinning positives, after a 3-0 defeat to Manchester United.
Slow improvements
The Black Cats managed to produce a more solid defensive display on Saturday at Old Trafford in the first 45 minutes. However, the game was all but over in just over a minute with Memphis Depay scoring 40 seconds before the break, and Wayne Rooney doubling the lead in the same time after the restart. That was all before Juan Mata rounded it off.
That defeat has left the North East club still without a win and rooted to the bottom of the Premier League table with just two points from their opening seven games. Advocaat has admitted that any positives taken from matches are wearing thin as they continue to be on the losing side.
Advocaat's concern
After the defeat, the Dutch manager admitted that they can't continue to say that they have "a lot" of games to go and "take the good things" out of the match afterwards. He did say that they were once again "well organised" against a "good side" but that is where positivity ended saying that the visitors "gave the game away" in two minutes.
Soft goals
Advocaat went on to express his disappointment at the softness of the three goals that they conceded against Louis van Gaal's side saying that the first goal was the fault of full-back Patrick van Aanholt, who was "watching" his own man rather than "closing down". He thought the same for the second and third goals.
Offensive players feel the wrath
It wasn't just the defensive unit of the Wearside club that faced the wrath of the manager, as Advocaat also gunned down his offensive options, particularly Adam Johnson and Fabio Borini.
He said every ball that Johnson touched was "wrong" from what he saw, which was why he substituted at the break, and Borini had trouble keeping hold of the ball and played a part in why he brought on Fletcher.