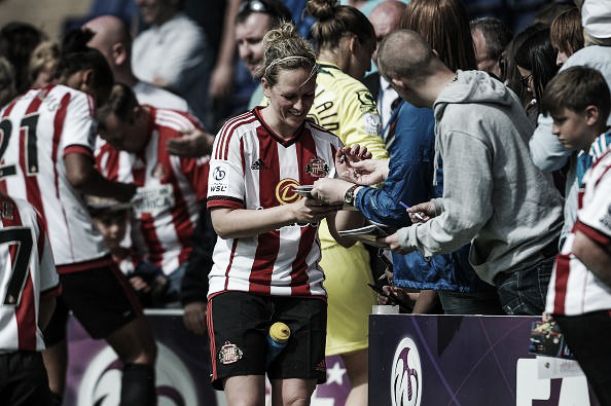 Victoria Greenwell admits that she is "really proud" of Sunderland Ladies after a stellar debut season in the top flight.
The defender announced that she would be retiring when the season came to a close, with the game against Chelsea on Sunday to be her last for the club.
That may have ended in a 4-0 defeat for the Lady Black Cats, the Blues' victory giving them the WSL 1 title, but Greenwell revealed that she is extremely pleased with the season that they have had and how far the team have come.
Sunderland have set themselves 'a new benchmark'
Greenwell has spent many years on Wearside, playing a key role in Sunderland's rise up the English football pyramid.
A mainstay in defence for many seasons, speaking to the FAWSL website, she looked back on her time with the club and believes that they have "come so far," "having earned the right" to be "playing at the top."
The defender has been part of the side since their third tier days, and is therefore "really proud" of what they have "achieved" this season, with them having "set a new benchmark...to build on now."
Greenwell admitted that she is "really happy to have been a part of that" and wished the club "the best of luck in the future," adding that she will "never be too far away, supporting them all the way."
Greenwell honoured to wear armband on farewell
Sunday gave the team the chance to thank Greenwell for her services too, with the 30-year-old handed the captain's armband for the trip South.
Though Sunderland lost the game, which the defender said was "very sad," she described it as "an honour to wear the armband" and a day that she will "remember for the rest of [her] life."
She thanked the team for the gesture, saying it was "really good of the girls" to give her the chance to be the captain for the day, adding that "it meant a lot."
Sunderland are now tasked with the challenge of replacing Greenwell as they look to push on and improve on a tremendous 2015 season. However, they will have turned heads with their performances this year and are sure to be able to attract top talent as a result.