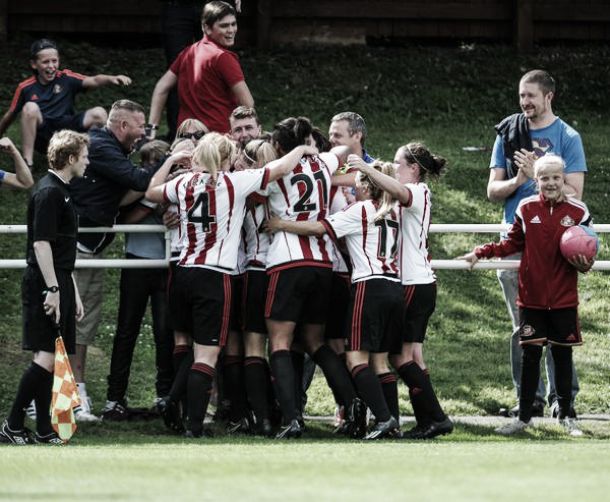 Undoubtedly the surprise package of this season, Sunderland Ladies had a tremendous debut campaign in the top flight this year, with their momentum from last season's WSL 2 victory helping them to secure a fourth placed finish in WSL 1.
Firmly in the title race even into the final stages of the season, the Lady Black Cats have had a marvellous year, succeeding against all odds and recording some wonderful results.
With a young squad and having established themselves in the league, there is plenty of potential in this team which can really help them progress in the coming seasons.
Great foundation can lead to consistency in 2016
Though the quality of this team was showcased in last year's success and promotion, Sunderland still shocked everyone with their incredible season this year.
They even shocked themselves, according to star striker Beth Mead, who finished top of the league scoring charts, as well the team's, with a fantastic 12 goals from 14 appearances - a total that helped the team boast the third best attack in the division.
The big task for Sunderland this year though was always going to be competing with the big guns and avoiding a relegation scrap, and they did that marvellously.
A 4-0 victory over eventual champions Chelsea was one of the best results recorded by anyone all year, with the Blues losing just one more game, and that being against runners-up Manchester City.
It was performances like this that told teams in the league to take the Black Cats seriously, and this could be a reason why they began to falter as the season came to a close, failing to win any of their final eight games in all competitions, without a victory since July.
Another reason is perhaps due to them running out of momentum, not to mention the tough run of fixtures they ended the year with. However, they certainly showed just how capable they are of competing in the top tier, and at the top of it, this year, and this will set a great foundation for what can be an even more successful season in 2016.
Goalkeeping competition has worked a treat
As is the case so often in this day and age in the men's game, Sunderland have two goalkeepers competing for a starting berth, however, this is not as common in the women's game, with a back-up stopper obviously in the squad, but rarely good enough to challenge the number one.
When first choice Rachael Laws suffered a knee injury in the summer, manager Carlton Fairweather opted to recruit Hilde Gunn Olsen to fill her shoes for the time being, and unearthed a gem in the process.
Olsen was marvellous as she deputised for her teammate, presenting Fairweather with a welcome selection headache every week when Laws returned.
As a result, Sunderland were sure that their 'keeper would be in top form for every game, with both looking to impress to keep their place, and both have been decisive performers in many matches this year, making strings of splendid saves to preserve points throughout the campaign.
The form of the two in between the sticks has been crucial in their success and the Lady Black Cats will be hoping for more of the same next year.
Biggest transfer business will be keeping Mead
Though it's a cliché we encounter in every transfer window - Sunderland's best bit of transfer business in the off-season will be keeping hold of Mead - if they manage to do so.
It would probably be in the 19-year-old's best interest to stay too, with her guaranteed to be in the starting line-up every week on Wearside, whereas anywhere else she could be assured that would be a step down.
The project she is part of is an exciting one too, with her just one of several youngsters who have impressed in this team this season.
The goals she produced this year were so important for Sunderland, and, with her having hit the ground running so well, she should do even better in 2016 having got that first top flight season under her belt.
After signing a four-year deal with the club earlier in the season, one would expect her to honour the contract and remain though, with the club warding off any potential suitors with this business.
Having said this, the Lady Black Cats cannot rely on Mead for goals and points.
It is up to Fairweather to recruit someone in the off-season who she can share the goal-scoring responsibility with, someone who can provide a different option too in order to give Mead a rest when she is playing constantly, to avoid injury.
Emma Kelly is coming through the ranks and began to show her potential towards the end of the season, but the team would benefit from another reliable striker in order to help Mead keep fit but also feel less pressure.
Other areas need improving still
Though they had a splendid campaign, that is not to say Sunderland are the finished article or complete package.
As well as continuing to bring youth through, the team need to add some players in the transfer window who can bolster weaker areas in the side.
One of these areas will be defence, with another commanding presence required following the retirement of Victoria Greenwell. The 30-year-old finished her career in the final day defeat to Chelsea, wearing the captain's armband to mark it, and will need replacing this winter.
As well as that, the Lady Black Cats may look to acquire some more defenders in general in order to ensure rotation and competition in a back line that shared the second-worst defensive record with Liverpool this year.
They conceded 24 goals in 14 games, with only the relegated Bristol Academy doing worse, and need to work on this if they want to push on and crack the top two.
The back four was consistent throughout the season, and perhaps a few more options will allow Fairweather to rotate and avoid fatigue, as well as ensuring competition too.
Midfield is another area of the park that could use an upgrade, this in terms of some steel. Veteran Kelly McDougall gives them this, but when she is absent the team lack a real bite in midfield, and thus another strong, battling option may be required to allow them to compete even more with the top teams.
In terms of creativity they are more than fine, with the likes of Brooke Chaplen, Rachel Furness and Keira Ramshaw offering this in abundance, and some steel on top of this would really help them move forward.
Ambition presents a bright future for Sunderland
Whilst their performances on the pitch have caught the eye, the most impressive thing about Sunderland this season has, arguably, been their mindset.
Whether that is players discussing the title race or the manager citing the target as Champions League football, the team have come into the WSL 1 with a top flight attitude, changing their mindset immediately upon promotion.
One might even say that they had this mindset before they managed to claim the second tier title last season, but, either way, it has helped them achieve great success this year.
This can be seen in a number of things, from their approach to games against big sides to signing international players such as Olsen and Stephanie Roche. If they continue this then, with their forward-thinking manager, they can really challenge for the title next season, should they recruit well.
Overall though, 2015 has been an incredible year for the Lady Black Cats, one which has shown that they are at home in the top flight.