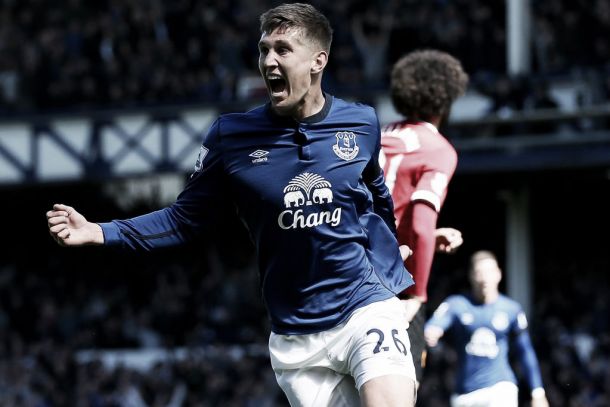 Ahead of Everton's hotly anticipated clash with Manchester United, here are five things to watch for during the game.
Potential defensive selection headache for Everton
Everton may find themselves with a bit of a dilemma in regards to who plays in defence. Ramiro Funes Mori, who has started the past few games, faces a trip back from Argentina duty while John Stones' fitness status is still unknown.
Funes Mori has acquitted himself in the Everton back line but with a 13 hour flight and little to no recovery time ahead of him, he would not be fully fit and ready to face Manchester United.
Stones has been out with injury since Everton beat Reading in the Capital One Cup and while boss Roberto Martinez continues to say that the defender will face late fitness tests, nobody is quite sure if he will be ready to play.
How do the international Toffees react?
Everton had a number of key players on international duty and will have to see who returns ready and fit enough to play.
While there were no reports of injuries, a number of those that travelled out on international duty played a considerable number of minutes for their respective nations and fatigue may be a worry, especially ahead of a high emotionally charged and physical game.
While Manchester United will also face these problems, Everton are the home team and will be expected to dictate the pace of the game. Should players not be fully fit, Everton may not be able to play the game to the pace they want.
Will Roberto Martinez change his system?
Roberto Martinez likes to change his system ahead of big games to keep the opposition guessing. Recently he has been set in 4-2-3-1 ways, dropping Arouna Kone to the bench but with Louis Van Gaal's side having a number of defensive problems, Martinez may reintroduce Kone to the starting line up.
Martinez may however choose to pack the midfield and give Darron Gibson a start or even drop Ross Barkley further back to create a flat 4-3-3 system to nullify United's talented midfield. Martinez usually opts for this system and it has worked in the past.
He's secured wins over Manchester United, Arsenal and Chelsea with the compact midfield. He aims to counter attack and use the pace of the wingers.
Should John Stones and Ramiro Funes Mori both make the game in full fitness, he may even look to adopt a 5-3-2 system that attempts to stop the potent Manchester United attack.
Anthony Martial is in fine form and Wayne Rooney can beat you with a moment of magic so Martinez will be wary of what United offer in the forward positions.
Will the Blues get an injury boost?
Tom Cleverley and Leighton Baines were aiming to make this game their respective returns from injury and while Baines may still be a few weeks away, Cleverley could give Everton a huge boost.
The midfielder signed on a free in the summer had divided opinions at Goodison Park but his early performances had caught the eye of many in the stands. He's not flashy nor plays with flair but he does the things that Everton fans appreciate.
He will track his man, he will get up and down and spot the right pass, the majority of the time. Cleverley has been an inspired signing by Roberto Martinez but an injury away at Tottenham Hotspur set him back.
Everton fans will be hoping he can recapture his form once he returns from injury.
How do Everton slow down Anthony Martial?
The signing of Anthony Martial caught the eye of many who scoffed at the idea of spending such a huge amount of money on a player who, at that point, had only scored 13 goals in his young professional career.
Since making his debut, Marital has scored five times and assisted a handful too. He's a classy finisher and has proved that with a stunning goal against Liverpool and a cool finish away at Southampton.
While some may have tipped him to be the new Thierry Henry, Marital is acquitting himself well in the Premier League and is a player Everton will have to keep their eye on, making sure he isn't given any space or easy chances in front of goal.