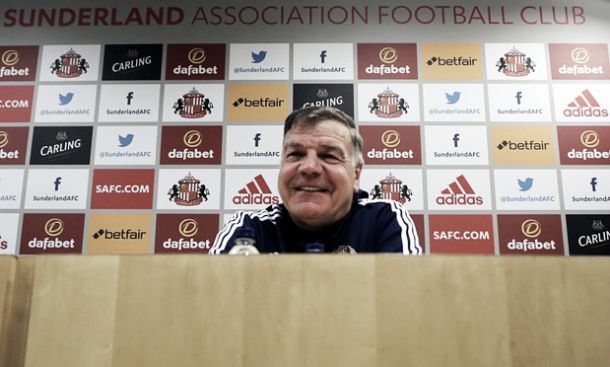 Sam Allardyce this week spoke to the media for the first time since being named as Sunderland's new manager, and is relishing the challenge that lays ahead.
The former-Bolton Wanderers boss is weary of the problems that exist within the team, and acknowledged these in his first official press conference, but is confident that he can turn things around at the Stadium of Light.
Allardyce focused on giving players a psychological boost
Without a win in their opening eight league games, and with just one in 10 matches in all competitions this season, that coming against League Two outfit Exeter City in the League Cup, the Black Cats are extremely low on confidence at the moment.
The new manager recognises this too, saying, via the Guardian, that there is "no doubt" that "mental fragility" is present in the team, which is a problem as "the mental side" of football is one that is "really important."
Allardyce realises that "the mental fragility has to be relieved" and he said that he, or his staff, must do this, "using [their] experience." He believes he has the ability to help these players "put those fears aside" by reminding individuals: "how good he is, why he's here, about his talent and why he's lost his way."
The manager said he "like[s] to be proactive" in this sense, using his "people skills" to keep the team happy, confident and, in turn, playing well.
New boss slams past recruitment
Another reason why Allardyce believes the team has struggled so far in the new season is because of the transfer business conducted.
He said that, "without being too critical of anyone," trying not to point fingers at those above or previous manager Dick Advocaat, who walked away from the job last Sunday, "the problem has to be recruitment."
This summer, Sunderland made eight signings, three of them loanees whilst the five permanent deals added up to £25 million.
The most worrying thing about the recruitment is that four of these signings are defenders, but yet the team have shipped 25 goals in their first 10 games - three of which were conceded against a fourth-tier opponent.
Allardyce continued to stress the importance of doing good business in the market, saying that, as a football manager, "you live or die by who you recruit to play for you."
He said his success at West Ham United "all boiled down" to him "recruiting better and better each year," which led to the side making "fewer and fewer mistakes over time."
However, he admitted that recruiting well is "the hardest job in football," saying that the key to doing so is having "good backroom staff" which consists of "highly educated professionals."
Allardyce confident in ability to bring players to club
One reporter suggested to Allardyce that former managers have said that it is difficult to persuade players to move to Wearside, both due to the location and the size of the club.
At West Ham, a London-based club, the 60-year-old will not have faced this problem, with England's capital city one of the most attractive places to live in. However, when at teams such as Bolton and Blackburn Rovers, amongst others, he did not have this luxury.
Yet, Allardyce does not see the problem at Sunderland, saying that once he gets players to the Stadium of Light and the team's training facility, he will have no trouble in getting them to sign for the club, saying that the place is "magnificent."
The boss went as far as saying that he has "not worked at a training facility as good as [Sunderland's] in [his] entire life," even slamming West Ham's, saying that the Hammers' "wasn't very good at all."
He believes that these surroundings in the North-East give him "the best opportunity to get the best out of players."
Though the owners play a part in recruitment, with Allardyce conceding that "if you don't hit the mark financially, you don't get the player," the new manager is confident in his ability to get talent through the doors at Sunderland, saying that "working with players" is what he is "best at."
Stuck with what he's got, for now
However, for the moment, Allardyce will have to work with what he's got, with the January transfer window over two months away.
There have been suggestions that free agents, and former-West Ham duo, Carlton Cole and Kevin Nolan are on the manager's radar, with Sunderland only having 24 of their allowed 25 players registered to play in the Premier League.
Still, one player does not make a team, and the fact remains that Allardyce will have to turn his inherited, disheartened squad into a winning side.
His first chance to do so comes this Saturday as the Black Cats travel to the Hawthorns for their first outing under the new boss, facing West Bromwich Albion.