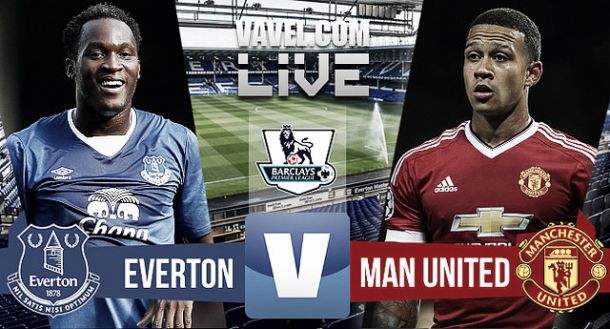 16:54 - Thank you for joining me for VAVEL's coverage of Everton - Manchester United, you can find me on Twitter @Danialkennedy95 and until next time have a great evening !
16:53 - It was a blistering first half performance with goals from Schneiderlin and Herrera with the Spaniard in paticular having a great performance before Rooney added a third in a quiet second period to secure all three points
16:51 - Excellent performance from Van Gaal's side! United were a contrast to what they usually perform like while at Goddinson Park
FT - Everton 0 - 3 Manchester United
90' - Martial does brilliantly to get beyond Coleman in stoppage time before playing it into Lingard but doesnt come to fruition
86' - Seems like United have shut up shop and will sit pretty in second until Arsenal play later on today
81'- Barkley's free-kick clips the bar on the way behind and United make their final SUB with former Everton man Fellaini coming on for Herrera
74' - SUBS for both sides, Deulofeu on for Lennon and Carrick on for Schweinstieger
70' - Rooney's effort proves to be historic as it makes him the joint second highest scorer in the Premier League alongside Andy Cole with 187 with Alan Shearer scoring more
69' - Rooney goes up the other end and Howard does well to prevent a fourth
69' Barkley attempts another effort with this one looking to have a hint of a defelction but De Gea was equal to it again with what looked to be quite the ecentric stop still 3-0
62' - United looked to have rounded it up! Jagielka's poor pass has proved costly as Rooney is played through by Herrera and the striker does well to beat Howard at the near post
62' - GOAL Everton 0-3 Manchester United
55' - De Gea does brilliantly to keep the two goal lead, Barkley's cleared free-kick managed to fall to Lennon which is cut back to Lukaku and it looks certain for the bottom corner but the Spaniard does brilliantly to stick his leg out and prevent the goal
52' - Kone does well to work space but shanks the ball which falls to Coleman who looked to find Barkley in the area but Lingard does well to intervene
51' - Schweinsteiger booked
48' - Barkley put a great ball into the back post from the free-kick with Lukaku waiting but Smalling managed to distratct him and the chance goes by still 2-0
46' - Everton getting the second half underway
45' - Subs at HT sees Lingard come on for Mata and Kone on for Naismith
15:48 - Can Imagine that Van Gaal will be very impressed with the performance of his players os far and will certainly to look to take it up a gear in the second period
15:47 - What a performance from Van Gaal's side! They started off well possession wise before two quick fire goals from Schneidelrin and Herrera seemed to shellshock Everton and when the home side started to get a foothold United stood firm in defence
HT - Everton 0-2 Manchester United
45+1 - Barkley manages to get the shot off from a tight angle but De Gea does well to fist it away
42' - Could of been a third when Darmian played Rooney in before he played back across to Martial but the Frenchman's shot hit the defender and was collected by Howard still 2-0
37' - Smalling showed great anticipation there as he did well to block Galloway's cross into the area, not happening for the Toffees at the moment, still 2-0
35' - fter that whirlwind period it seems that everyone is catching their breath as there isnt much going on at the moment still rmeains 2-0 United
22' - United double it up! referee Moss decides to play advantage as Martial is clattered by Coleman as Rojo sets off down the left before playing a great ball into the area and Herrera is there to glance a header up and above the diving Howard 2-0 United
22' GOAL - Everton 0-2 Manchester United
18' - United are ahead! Corner was headed into the air by Naismith which eventually which was put through a crowd of players by Smalling eventually falling into the feet of Schneiderlin who does well to fire it in ! 1-0 United
18' - GOAL Everton 0 - 1 Manchester United
16' - Still quite a enclosed match so far, Lukaku tried the spectacular from the free-kick but ultimatley came to nothing, still 0-0
6' - Been some positive possession from United so far, Jones nearly left De Gea short but does well to take it past Lukaku, still 0-0
1' - We are under way at Goodinson !
14:47 - Little over ten minutes until kick-off at Goodinson Park
14:06 - Manchester United starting XI: De Gea, Darmian, Smalling, Jones, Rojo, Schneiderlin, Schweinsteiger, Mata, Ander Herrera, Martial, Rooney.
14:05 - Everton starting XI: Howard, Stones, Jagielka (c), Coleman, Galloway, Lennon, Naismith, McCarthy, Barry, Barkley, Lukaku
14:01 - The Red Devils' trip to Merseyside has been overshadowed by the sad passing of Everton club legend Howard Kendall at the age of 69
14:00 - Hey everyone I am Danial Kennedy and welcome to VAVEL's coverage of Everton - Manchester United
Head-to-head
Goodison Park has become a very difficult place to visit for Van Gaal's side with Everton winning the last three home meetings and managing to keep those clean sheets in all those matches and victory would see them match their own previous record as they were the last side to win four-in-a-row against the Red Devils between the period of 1984-87.
They taught Van Gaal's a footballing back in April with an excellent performance with goals from James McCarthy, Stones and Kevin Mirallas giving them an excellent 3-0 victory and well-earned three points.
Team news
Midfielder Bastian Schweinsteiger is expected to be out after he picked up a thigh injury while on international duty with Germany with Morgan Schneiderlin expected to be recalled in the centre of the park.
Captain Wayne Rooney sat out both of England's Euro 2016 qualifiers after he picked up a knock in the defeat to Arsenal but after taking part in training on Thursday he is expected to be fit for the visit to his former club.
Martinez will be happy that his side have no fresh injury concerns ahead of the clash with John Stones and Ross Barkley expecting to make their return to the side.
Full-back Leighton Baines is lined up to make his return for his first start of the season against Sunderland at the beginning of next month while midfielder Tom Cleverley reportedly a week behind his recovery.
Toffees sticky consistency
It has been a great start to the season for Roberto Martinez's side as they currently sit just two points outside of the Champions League places which is a great improvement comparing it to the contrast of last season.
However despite losing just two matches of their opening ten games in all competitions their consistency has cost them so far as they have failed to win back-to-back matches so far in this campaign.
Tough run of games
It has been a tough run of matches for the Toffees in the past few weeks as they managed to remain unbeaten and made a return of nine points with matches against Swansea City, West Brom, Chelsea, Liverpool and Tottenham.
It doesn't get any easier from here as after the clash with Van Gaal's side they will travel to the Emirates to take Arsenal.
United's positive start
Louis Van Gaal will be happy with his side after eight matches as they currently sit in third position and only two points behind current leaders City.
They came back from the previous international break all guns blazing after a defeat to Swansea City before the break with victories over Liverpool, Southampton and Sunderland as well as brushing aside Ipswich Town and Wolfsburg in both the Capital One Cup and Champions League respectively.
Van Gaal will be hoping for the same again this time around after they were humbled by potential title rivals Arsenal, goals from Mesut Ozil and Alexis Sanchez the highlights of a blistering 3-0 victory.
Manchester United will be looking to keep the pressure on rivals Manchester City when they travel to bogey side Everton on Saturday afternoon.