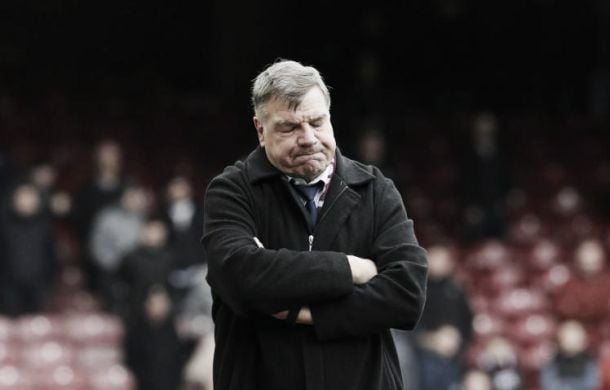 Sam Allardyce remains without an assistant at Sunderland after both Phil Brown and Neil McDonald ruled themselves out of the running this week.
Allardyce took charge of the Black Cats last Friday after Dick Advocaat walked away from the job five days earlier, but will head into his first match at the helm, away at West Bromwich Albion tomorrow, without a number two.
Brown and McDonald have been heavily linked with the job, but both have confirmed this week that they are not interested in the role, dealing a big blow to Allardyce and the club.
Brown rejects approach to stay with ambitious Southend
The big development in Sunderland's search for an assistant manager is the news that Brown in fact rejected the opportunity to be their man, having been approached by the Wearside outfit.
He worked at Bolton Wanderers as Allardyce's right-hand man for six years, and was thus an obvious candidate for the job, but revealed to the Southend Echo that he turned down the chance to take it.
Brown is the manager at Southend United and spoke earlier this week about how that was his main focus when rumours emerged. Yet, he has now admitted that the job was offered to him, but he has decided to stay at Roots Hall "after talking with the chairman" at the Shrimpers.
He conceded that it was a proposal he "did think about for a couple of days" but he has "ambitions" as a manager on his own. Brown said that he has things he wants "to achieve at Southend" and that he also wants to "get to 1,000 games as a manager."
He cited the latter as "something [he's] always wanted to do" and, thus, had to reject the chance to go to Sunderland, as he cannot reach that landmark "if [he goes] and become[s] an assistant somewhere."
Having guided them to promotion from League Two last season, Brown currently has Southend sitting pretty in seventh in League One with 12 games played, and does not want to leave his post when there is so much to be achieved.
He concluded by saying that the club have "put plans into place" that can see them "continue to make progress" and admitted that the aim is "to try and get another promotion."
McDonald not willing to become number two again
McDonald dismissed his own links with the job for similar reasons, the Blackpool boss saying, via the Blackpool Gazette, that "it's [taken him] a long time to become a number one" and now it is "[his] turn" to enjoy success as a manager on his own.
The Blackpool boss revealed that he has not been offered the job, telling the media that "there's been no contact from Sunderland," but was quick to dismiss the possibility of him leaving when the question arose.
He understands the link, saying he has "a brilliant relationship" with Allardyce, but that people are jumping to conclusions because of this - calling it "putting two and two together to get five."
Blackpool have had a nightmare couple of seasons, which resulted in relegation from the Championship earlier this year. However, McDonald is helping them rediscover some good form that can keep them away from League One's own drop zone, which they are flirting with already at this early point in the season.
Three wins on the bounce hasn't taken the team out of the bottom four, but they have plenty of momentum at the moment and, with the table being tight in terms of points at this early stage, they will slowly start to creep up the standings if they continue their winning ways.
Any worries Blackpool fans therefore had about losing their manager during this period were immediately gone when McDonald said that he is "happy" at Bloomfield Road and "proud" to be the Seasiders' manager.
Who next for Allardyce?
Allardyce is now running out of options for the post, with Peter Reid having been ruled out of the running earlier this week too.
The man in charge is understood to be keen on moving Kevin Ball back into a coaching role, the Sunderland Echo reported last week, but whether or not he is ready to be the 60-year-old's number two remains unclear.
Ball was the under-21 manager at the Stadium of Light two seasons ago, but stepped down from the role and now occupies an ambassadorial position instead.
The former-Sunderland captain has taken charge of the team on a caretaker basis in the past, but after stepping back from a coaching role recently, it seems to be a case of whether or not he is prepared to return to a similar job, as well as, of course, if Allardyce wants to give him such a high profile position straight away.
However, for this weekend at the very least, Allardyce will be without a number two as he bids to give Sunderland their first win of the season as they travel to the Hawthorns.