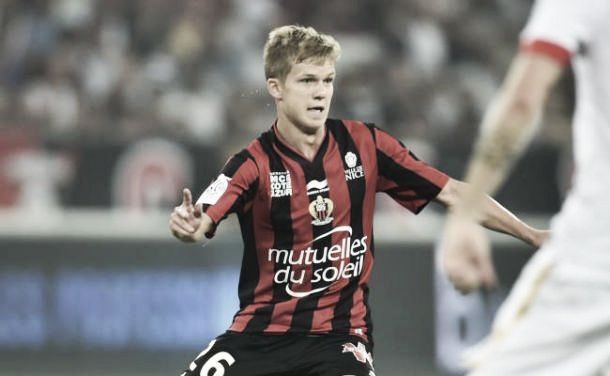 17 points from nine games sees OGC Nice sit fifth in Ligue 1 as October draws to a close. European qualification currently seems realistic. Nice are playing with intensity, and the summer signing of Valere Germain on loan has seen them look more clinical than ever.
Naturally the headlines have been snatched by the controversial Hatem Ben Arfa. The former Hull and Newcastle player has shaken off the reputation he earned in England for being a disruptive influence, and seems to be becoming Nice's talisman. His seven goals have put him at the top of Ligue 1's scoring charts, and several eye catching individual efforts have even caught the attention of the English media.
His talent is undeniable. A man of flair, his time in England was so frustrating for fans and coaches because of the obvious ability he had. Finally, he seems to be fulfulling the potential he showed during his time by the Tyne.
Of course, Ben Arfa rise has not single handedly resulted in Nice's good fortunes. Credit must go to Claude Puel, who despite his club's meagre standing when it comes to financial muscle, seems to be getting the best out of his players.
Ben Arfa is just one of the players with plenty of experience in the Nice squad - club captain Mathieu Bodmer has over 350 Ligue 1 caps having played for both PSG and Lyon. However, Puel has expertly balanced this experience with youthful energy.
Such energy has been characterised by 19 year old Vincent Koziello.
A star in the making?
Promoted to the senior squad at the beginning of last season, Koziello has been a mainstay for Nice this season, featuring in every single league game for 'Le Gym'.
His influence on the side has been enormous, and his fantastic form earned him his first call up to France's U21 team earlier this month.
Koziello is a very unique player but one without unique attributes. His passing is exceptional - accurate and precise, boasting a 91% pass completion rate so far this term. Furthermore, he has unnerving confidence with the ball at his feet despite not possessing mind-blowing speed.
What I find most impressive is the defensive presence he has. His brilliant fitness level allows him to track back and harry opponents, on the back of making supporting runs going forward. With sound tackling technique and skill at intercepting the ball, the Frenchman has the ability to effectively break up play in his own half and high up the pitch.
So he can pass, dribble and tackle, but surely countless players do that on the biggest stage even more effectively than him? Yes, there is a contigent of players who can do this. Paul Pogba, Toni Kroos, Arturo Vidal, to name just three, all do this to a much higher level than Koziello.
The fact that they do however has defined them as players, and has resulted in them being worth so much money. Paul Pogba looks set to break several transfer fee records when he eventually leaves Juventus, while Kroos and Vidal were sold in the last two summers for fees both reported to be in excess of £35 Million.
A player like Koziello is fast becoming an extremely valuable asset for any club, and this is almost surprising given the evolution of football which initially devalued players like Koziello.
The disappearance of the box-to-box midfielder
The transition from 4-4-2 to 4-2-3-1 as the modal formation for teams, saw a division in midfielders. Demand only existed for defensive midfielders (to play in the bank of two) or for attacking midfielders (to play in the bank of three). Players of Koziello's ilk were sidelined, as the role of midfielders were specialised. 'Advanced Playmakers' and 'Ball Winning Midfielders' emerged as the old fashioned 'Box-to-Box Midfielder' shrunk into obscurity.
This further makes the rise of Koziello in Nice's ranks more impressive and the impact he is having more commendable.
"Surprising" defensive presence
What I find most impressive about Koziello, and what has contributed to my enormous admiration for him, is his size. That sounds bizarre, I realise, but Koziello stands at only 5 ft 6, which is unusual for a profesional footballer these days, in particular one who plays in a central midfield role which possesses considerable physical demands.
Despite what seems to be a significant disadvantage, Koziello is surprisingly strong on the ball and good tackling technique, combined with game reading skills, allow him to dispossess opponents very often.
For a long time, particularly in England, physical attributes have been valued higher than technical ability. This is visible from a grassroots level all the way up to the senior level, and has even been labelled by some as the greatest failing of the English football system as it has prevented them from raising technically gifted players with abilities similr to Xavi or Iniesta who aren't blessed with electric pace or bullish strength.
Players like Koziello prove this way of adjudging players wrong. There clearly is a role in football for players of slighter or shorter builds but with heaps of talent. For this, his manager must be hugely praised, as it was him who deployed him in a box-to-box role in which he has flourished thus far.
The return of the box-to-box midfielder
This role sees Koziello employed in the middle of the pitch, with freedom to drift wide in attack. His job in attack is to either feed the ball into players ahead of him having won it back or to be fed it and carry it forward, injecting energy into an attack. In defence, Koziello is instructed to press high and force attackers into mistakes, otherwise he clears up the work of other players or is pushed back into a defensive role behind the ball.
This is a very adaptive role which emphasises the great football brain needed to play it. Of course, Koziello is young and he may well be shown up in this role, but the raw ability and talent it certainly there.
Evidence also suggests that this role will become ever more prominent. High energy, pressing tactics, pioneered by Marcelo Bielsa, are very popular nowadays following the rise to fame of Bielsa's protege Mauricio Pochettino.
The demand of players to constantly put pressure on opponents in all areas of the pitch, has resulted in the re-emergence of the well rounded central midfieler with both attacking and defensive capabilities and hence these systems suit individuals like Koziello enormously. For example, a similar play in style is Ryan Mason who rose from obscurity to the Spurs team under Pochettino.
Despite a disturbing sway away from the all-encompassing central midfielder towards specialised ball winners or playmakers, modern football with its new high energy pressing tendencies seems set to take back the box-to-box midfielder.
Vincent Koziello is just one example of one upcoming talent, who fills this role, and while he still emerges from obscurity at Nice, soon he may be a player high in demand, and deservedly so.