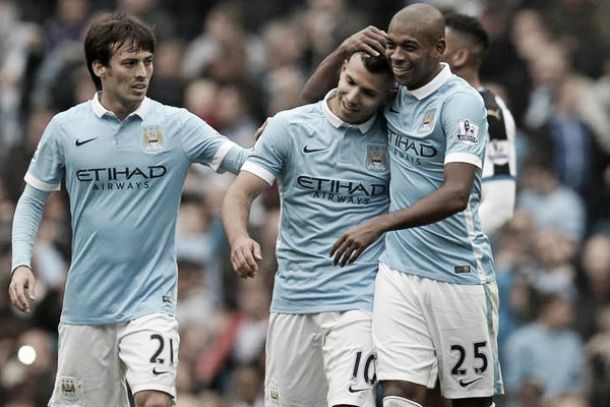 Manchester City have seen the international break plague strike them in extremely hard fashion as two of their most important players, Sergio Aguero and David Silva, have gone down with critical injuries and will miss an extended period of time within the first-team set-up.
Both of these stars have been superb so far this season and these injuries are really going to test the depth and character of this Manchester City side. City are going to need someone to step up, a leader, a captain to take control and make City strong.
Performance
At the weekend against Bournemouth, City showed an abudance of character in their 5-1 victory. The newly-promoted side did well to score against City's strong defence, but the Cherries' defence was poor - allowing themselves to be carved open at will. Raheem Sterling was spectacular, netting a hat-trick and Wilifried Bony netted a much-needed brace.
Bony had been under some scrutiny for failing to be effective in-front of goal following his January switch from Swansea, but the powerful Ivorian made no mistake with his two opportunities being efficiently converted from close-range at the Ethiad, securing all three points in an emphatic victory for the sky Blues.
Raheem Sterling and Kevin de Bruyne are going to have to take the place of David Silva in a creative sense - being able to create chances at will for Bony and others to profit from.
Yaya Touré meanwhile, is also going to need to act as a leader in the midfield and he is going to need to pull the strings and control the game so that City can dominate the match like they normally would with all of their important players fit.
Champions League aspirations
Although their fans will be understandably relieved, City have managed to scrape another Champions League win under the opposition's noses for the second matchday running. Following Aguero's heroics in Gladbach, de Bruyne was the man to step up and claim the three points with a strike in the dying embers of the match - despite Sevilla dominating for large parts of the game and fully deserving of a positive result for all of their pressure throughout.
Tactics
In the match against Bournemouth, Manuel Pellegrini played his side in a 4-2-3-1 formation. They started with Bacary Sagna and Pablo Zabaleta as the two full-backs, Nicolas Otámendi and Eliaqium Mangala the centre-back pairing, Fernandinho and Touré in defensive midfield roles with de Bruyne, Jesús Navas and Sterling the attacking trio in-behind Wilfried Bony up-top. With everything being taken into consideration, this will most likely be the starting XI and formation for City, subject to a few alterations here-and-there.
Manchester City have enough depth in their side to continue their encouraging form in the League, but they'll certainly need their big stars to step-up to the challenge and take control of their situation. Can they do it?