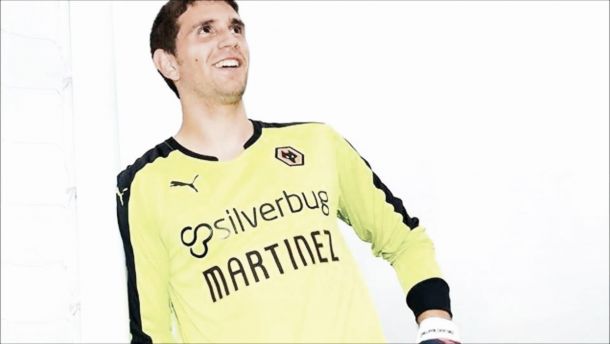 Arsenal goalkeepers have been praised as well as scrutinised this season, Petr Cech since a nightmare league debut has been amazing thus far, whereas the Gunners' two UEFA Champions League defeats have both been put down to David Ospina's inclusion ahead of the experienced Czech.
In Italy, Wojciech Szczesny has had a indifferent time at Roma, a couple of errors cost the Italian side their second group game in the Champions League away at BATE Borisov, however, he made some impressive saves in the club's early season win over Serie A champions Juventus.
But what of Arsenal's fourth-choice goalkeeper, Emiliano Martinez?
On loan at Molineux
The 23-year-old Argentine is currently on-loan at Championship side Wolves but his time at Molineux has been a rather mixed bag.
He's been good enough to oust regular, and long-time Wolves goalkeeper Carl Ikeme from the starting eleven but his recent performances aren't exactly good enough to keep him there.
No doubt, he's had some great games, including a Man of the Match performance against league leaders Brighton and Hove Albion that included a stunning penalty/double save to save a 0-0 draw.
He also kept clean sheets in back-to-back 3-0 wins against Fulham and Huddersfield Town in a tough week for the club when it was announced owner Steve Morgan would be putting the club up for sale.
However, his performance against Derby showed some of the shortcomings that will blight his career if not addressed.
He was not strong enough in a cross from deep which he came to punch away, admittedly young centre-back Kortney Hause didn't do a fine job of stopping Derby's Chris Martin who beat both goalkeeper and defender to the ball. It harkened back to his early games at Arsenal, especially an embarrassing first half performance in the 7-5 Capital One Cup victory over Reading in 2012 in which Martinez looked weak and lacked command of his area.
Although the best goalkeepers have made errors from crosses, as evidenced by both Cech and arguably the world's best goalkeeper Manuel Neuer at the Emirates this season it wasn't great to see Martinez look so weak from a floated cross.
A really poor Wolves defence hasn't helped him as of late and even skipper Danny Batth's return from injury hasn't made them any more water-tight going down 4-2 to Derby at the iPro and humiliated 2-0 at home to Brentford who themselves have made a poor start to the season.
Against Brentford, he allowed Phillipp Hoffman to go round him late in the game to secure the Bees victory and was a bit unlucky with a looped deflected shot in the first half for their first goal – although arguably he could have done a lot better.
His inconsistent performances have made a lot of Wolves fans question why he's in the team ahead of Ikeme, who's been at the club since 2003 and worked tirelessly to finally be made the club's number one following their relegation to League One in 2013.
Is he good enough for Arsenal?
Since the 7-5 win over Reading, he's certainly improved and he kept three clean sheets last season against Borussia Dortmund, West Bromwich Albion and Southampton for Arsenal.
However, with Cech and presumably either Ospina or Szczesny ahead of him when he returns to the club next summer, you get the feeling that he's not going to have enough time to make it at the club.
Arsenal have not been shy about getting rid of young goalkeeping prospects in recent seasons if they're not going to make it as number one, selling Vito Mannone to Sunderland and allowing Lukasz Fabianski go on a free to Swansea weeks after he was first choice for the 2014 FA Cup final and had played every round.
The latter has done really well replacing Michel Vorm since his departure to Totenham Hotspur and even kept a clean sheet for the Swans in his return to the Emirates late last season.
Sadly for Martinez, with so many more experienced goalkeepers ahead of him and his performances on-loan ranging from outstanding to petrifying, it may be the case that he's allowed to leave.
He has the attributes to succeed at another club, he's a big figure in the goal and his two penalty saves this season show good concentration and shot-stopping but he's not exactly the next Thibaut Courtois about to replace Cech in goal.