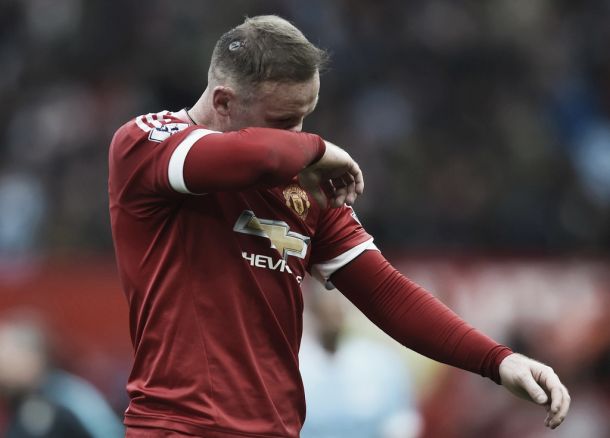 After Manchester United put in a fantastic performance against Everton, Wayne Rooney reacted interestingly when questioned by reporters after the game.
He'd scored the third goal and was asked along the lines of had he turned a corner after enduring 11 months without scoring away from Old Trafford. He curtly said 'It depends what the press thinks, they call it what they like. What matters is what my manager and team-mates think.'
He may think he had a point, and to a degree he'd be right, but he was evidently perturbed by his perceived criticism in the press when in reality the question was based on a fact. He had gone nearly a year without an away goal. He also missed the point in who he needs to please, forgetting the United faithful. If he feels the press are on his case, then he is probably best staying off Twitter and other social media outlets for a while because the natives are restless.
Legend struggled against rivals
Rooney will go down in United history, and should be considered a legend. However, fast forward just over a week from the Everton game and not only has he turned 30, but he has gone a further two games without netting. Goals are only part of Rooney's game, he offers so much more, but his performance against Manchester City in the derby was possibly one of his worst in some time in terms of quality. He shed blood, and worked as hard as anyone else on the pitch, but he failed to trouble City in any way. He lost possession 28 times, and had a pass completion rate of just 55%. He had one blocked shot.
He hardly had a sniff up front, but two promising situations highlight how lost he looks right now. The first, he picked the ball up just outside the area and Anthony Martial made a run to the centre forward position. Rooney drove inside, and disguised a reverse ball to Martial as the young Frenchman peeled to the left. Martial never read it, but when you looked again, he knew he was offside. By delaying the initial pass, Rooney gave Martial little option. Had Rooney played it first time for Martial's initial run he would have had to thread a perfect, difficult pass, but we are talking about a top class footballer playing for United. It is what they are meant to do.
The other opportunity to hurt City came when Jesse Lingard spotted a good run from Rooney and played a nice ball inside the right hand channel. It took Rooney into the box, and although he was being closed down, the whites of the goal were visible. Given that he had little opportunity before that, a shot looked on, but Rooney took a touch and disguised a cut back into Martial's path that was cut out and the chance gone. Jamie Vardy, with the form he is in, would have almost certainly took a pop. It questions the confidence of Rooney. Strikers live on goals, and goals breed confidence. Or should do.
Striker position the most difficult
When Rooney took the match ball after United's visit to Club Brugge, that should have been a catalyst for good things to come. His finishes were sublime, and as we have seen many a time down the years, when Rooney starts scoring, he doesn't tend to stop for some time. Not so now. Is he finished? Is he over the hill having just turned thirty? Let's not get ahead of ourselves, but lets not treat this as a blip. He can't play as a centre forward in Louis van Gaal's Manchester United. Not many can. Radamel Falcao, Robin van Persie and Javier Hernandez - though he had few opportunities - all tried and ultimately failed.
To play up front for United, you have to have your back to goal for long periods. You need to be strong and hold the ball up. You need to link play, and get on the end of the odd cross that occasionally enters the penalty area. If you have pace, which Rooney lacks, then you can offer something different but even then United build up so slowly that opportunities to turn a defence generally come on the counter. United looked a lot more dangerous with Martial up front and Rooney behind than they do now, with Ander Herrera being the latest incumbent of the "No.10" role.
If Rooney starts, it makes sense to have him behind a striker. Herrera is a classy player and deserves his opportunity in the side, so dropping Rooney back would mean the elegant Spaniard being pushed wide, or back warming the bench. That would be unfair. However, van Gaal has backed Rooney every step of the way and refused to even discuss him after the derby, insisting he "is sick of talking about Wayne Rooney". It all depends on what the stubborn van Gaal thinks, but if he feels he needs a change up front, he doesn't have many options.
Lack of alternatives
Martial would be the obvious choice. His impact in his first few games there was sensational, and even though he has been exceptional out wide, he gives penetration through the middle. Other than Martial, there is only James Wilson as a recognised striker, and he hasn't had a look in so far for the first team. If van Gaal did move or drop Herrera and play Rooney behind Martial, then another problem will present itself soon enough. Even if that move brought rewards, the pair of them cannot play every game. With Middlesbrough coming to Old Trafford for the League Cup, and van Gaal taking the competition seriously, can he reasonably expect that both players can play in every game?
Rooney was pictured entering a birthday celebration in his honour, joined by team mates past and present, but he hardly looked in celebratory mood. He is almost certainly hurting at the flack coming his way, but he is probably hurting more that he knows there is some justification. Gary Lineker recently anchored a documentary chronicling his career, and whilst there are many iconic moments that are unforgettable, some of the footage of him as a young boy was startling. He had everything. He was like a bull, had pace and power, but his skill level was extraordinary. He still has the skill, the tenacity, but he is slowing down and the responsibility of managing the final phases of Rooney's career lie with van Gaal.
If he continues playing Rooney week in, week out, and as a centre forward then there is a real danger that Rooney will begin to attract a lot more criticism unless he is able to resurrect himself against the odds. It is also a test for van Gaal. Having so little option, he needs to ensure that he doesn't burn Rooney out - he may already need a rest - whilst ensuring that he gets results. If United start winning without Rooney, then big decisions need to be made. Rooney and van Gaal are used to winning, and neither will want to finish their United careers with anything other than the receiving plaudits, as they have done from the outset.
The final word is perspective. Rooney was poor against City, and he has had very few good performances this season. If a young player gets an opportunity and disappoints the fans are forgiving although maybe Tyler Blackett is the exception, as he was criticised by some fnas, albeit ridiculously, after his introduction last year. Van Gaal just appraises a players performance, and not the age. With Rooney nearing the latter stages of his career, the expectations are higher, but van Gaal is obviously looking at everything he brings and not just his play. Many players have come out in recent weeks to laud Rooney, and his stature must not be understated, though the bottom line is his performances need to improve. United fans are apprehensive about the situation, and the perfect scenario would be for Rooney to rise like a phoenix from the flames. He is only 30 after all.