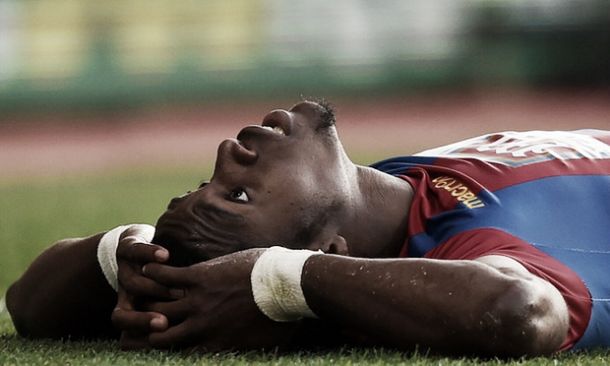 After a lacklustre first half where Manchester United controlled, a thrilling second half with many physical battles and a whole lot of chances saw the match finish 0-0 against Crystal Palace.
In the first half, there wasn't much to split the two sides at all. With not very many chances, United really held possession and controlled. Rooney did have a couple opportunities, one off of a free kick that was placed spectacularly, but Hennessey did very well to catch it.
In the 35th minute, Anthony Martial played a spectacular ball to set Wayne Rooney free on goal. Rooney's pace did not do him justice in the scenario as he couldn't reach the ball and Hennessey again did well to clear the danger.
Chance-free first half as United hold possession
David De Gea did have a very nice save off of a Yannick Bolasie shot. Bolasie was free on the right-hand side and fired a shot away. De Gea did very well to tip it onto the bar. Right after, Wilfried Zaha put a cross in that deflected and almost went in for an own goal but luckily, it went just wide of the post.
Palace come out fresher in second half and game hotted up
The second half was a completely different story. Palace seemed so much more comfortable. Matteo Darmian and Marcos Rojo were getting beaten left and right by Wilfried Zaha and Yannick Bolasie respectively. Palace dominated the match in the second half.
Dwight Gayle had a shot that David De Gea saved off of his right foot and a beautiful delivery into Yohan Cabaye was put just wide as Cabaye was disappointed not to score from such a chance.
Bolasie and Zaha had many crosses into the box that no one could do anything with. Dwight Gayle could not get into the area off of a Bolasie cross in the 70th minute when he would have had a one on one battle that he had an opportunity to win.
In the end, Palace played better than United. Especially in the second half where they had a vast amount of chances.
Wayne Rooney did get the start today despite many rumors he would not. His mediocrity recently has not been enough for Louis van Gaal. Even though he has not been good enough, he was given the chance up front. In the 36th minute he was through on goal, but couldn't do anything with it because he wasn't quick enough to reach the ball.
Had Anthony Martial been up front, maybe he could have gotten to the ball and finished it off? Is Anthony Martial better on the left? Or up front? Can LVG drop skipper Rooney? These are the types of questions being asked after two straight 0-0 league draws. The Red Devils have not scored a goal in open play in over 300 consecutive minutes, receiving 0-0 draws against Manchester City and Crystal Palace. They also lost in penalties against Middlesbrough after extra time with no score going into penalties.
Van Gaal needs to make changes up front, as the front three of Rooney, Martial and Mata is currently not working in the league. He needs to drop Rooney for at least a match and see how it works. He needs to put Memphis on the left, Martial up top, with Mata on the right.
Next weekend, Manchester United take on West Bromwich Albion who lost 3-2 against Leicester City, who with that win, have overtaken the Red Devils for 3rd place.
During the week, United take on CSKA Moscow in the Champions League. If United can get a victory in that match, they look like they will advance to the knockout stages of the tournament they missed out on last campaign.