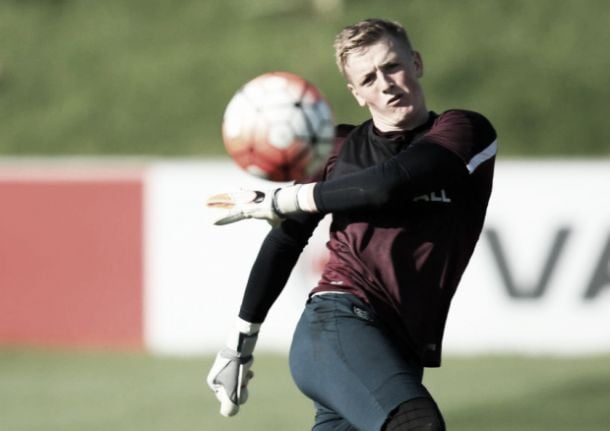 Sunderland loan star Jordan Pickford continues to grow as the goalkeeper closes in on a clean sheet record at Preston North End.
Blistering form
Pickford, 21, managed to keep his fifth consecutive clean sheet and ninth overall for the Sky Bet Championship side when they defeated Nottingham Forest 1-0 midweek.
Eoin Doyle's first goal for the club proved to be enough to subject Forest manage Dougie Freeman to eight matches without a victory.
Heaps of praise
North End manager Simon Grayson was quick to praise his young starlet after the game saying that it was a "fantastic achievement" to have such a record and to do it in such a league as the Championship "takes some doing."
Pickford can level the record on Saturday if he manages to keep out Queens Park Rangers at Loftus Road.
The record is currently held by Carlo Nash in a campaign when he kept 24 back in 05-06 and with his recent form Pickford could eclipse it.
Watchful Sam
The 21-year-old's form hasn't gone unnoticed as it seems Black Cats manager Sam Allardyce is keeping tabs on the stopper and was in attendance at Deepdale midweek.
It has been a tough start to the campaign for current first-team goalie Costel Pantilimon making a handful of costly mistakes and managing just one clean sheet.
It has been reported by the Sunderland Echo that there could be a small window of opportunity in the January transfer window to bring the Washington-born keeper back to the Stadium of Light if they had a change of heart.
Heaps of interest
It's not only his parent club that have their eye on Pickford as it believed that Premier League rivals Tottenham Hotspur, Aston Villa and Manchester United have all apparently been linked.
But Pickford expressed his enjoyment at his loan spell with North End saying that the more games he plays the more he will "mature" and the "better" he will become as a keeper.