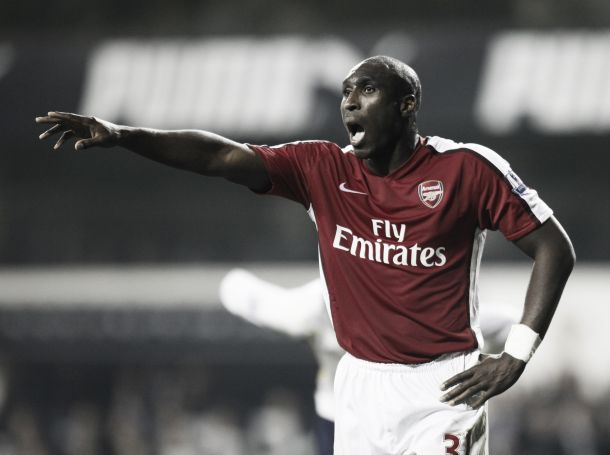 A rivalry that dates back to 1913 when Arsenal moved north of the river to Tottenham Hotspurs' patch of North London from Woolwich, not many players have dared cross the divide of Seven Sisters' Road but of course, there are some exceptions.
From youth prospects to captains, all sorts have switched Red for White and vice versa but who are the players who dared cross the divide?
Early movers
The first mover was Jimmy Brain in 1931; the centre forward was the first Gunners player to score 100 goals for the club and still to this day remains the club's fifth all-time goal scorer.
After losing his place in the team, Brain moved to Spurs where he spent four years but would only score 10 goals in 34 games.
George Hunt would move from the other side in the 30s also, in 1937 he joined from Spurs where he'd scored 138 goals in 198 games, however, his time at Arsenal was much like Brain's at Tottenham, just shorter.
Freddie Cox and Vic Groves were the next to play for both clubs, Groves the first player to play for both who hadn't been directly sold from one club to the other.
Laurie Brown and David Jenkins both moved in the 60s to Spurs, as did Jimmy Robertson the other way in an exchange deal for Jenkins – Robertson was the first player to score for both clubs in North London derbies.
It wouldn't be till 1977 that a player would cross the divide again.
Pat Jennings
Following Tottenham's relegation to Division Two in 1977, Arsenal acquired three of Spurs' top talents.
Willie Young and Steve Walford moved and began to establish themselves in Arsenal's defence but it was the capture of Northern Irish goalkeeper Pat Jennings which turned heads.
A move akin to Petr Cech's from Chelsea to Arsenal in 2015, Tottenham believed former Player of the Year Jennings was on the decline, however, the Irish shot-stopper was still a rock for the Reds, helping them to four cup finals in three years, however, only winning the 1979 FA Cup final however.
Jennings made 327 appearances for Arsenal before retirement in 1985, however, he continued playing international football into his 40s, becoming the World Cup's eldest ever participant in 1986.
The 21st century
Jennings would be the last notorious North London mover for nearly 25 years, although youth players like Jamie O'Hara left Arsenal for Spurs and former player and manager George Graham took over Spurs in 1998, they dwindle in comparison for the most shocking move in the rivalry's history: Sol Campbell.
Campbell's last contract at Spurs was running down and after 12 years at the club opted to leave for Champions League football, however, nobody believed his destination would be Highbury.
The centre-back previously stated he would never play for the Gunners and reporters had no inclination he would be signing when they arrived for a press conference unveiling fellow new-signing Richard Wright.
His departure sent shockwaves round North London and English football, Spurs fans labelled him Judas but Tottenham's pain was Arsenal's gain as Campbell went onto win the double in his first season at Highbury followed by two more FA Cup's and an unbeaten league title.
Campbell would also score in the UEFA Champions League final in 2006, but couldn't stop FC Barcelona winning the game 2-1 late on, in what would be his final appearance for the club until a short spell in 2010.
Since Campbell, no Tottenham player has signed for Arsenal but a few have gone the other way, Rohan Ricketts moved in 2002 and former Gunners youth prospect David Bentley was signed by Spurs in 2008 from Blackburn Rovers.
Bentley had been hyped as the next David Beckham or Dennis Bergkamp by the media but left on bad terms in 2006 finding himself behind more experienced players and even handing in a transfer request in 2005.
However, Bentley's move to Spurs was the beginning of the end of his career, although he scored a 43-yard volley against Arsenal in a 4-4 draw at the Emirates, the form of Aaron Lennon meant Bentley found himself out of favour under Harry Redknapp.
With Spurs challenging for Champions League football, Bentley found himself down the pecking order and out on loan, however, loans to Birmingham City, West Ham United, FC Rostov and Blackburn Rovers didn't lead anywhere and at just aged 29, Bentley retired from professional football.
Following Bentley was former Arsenal captain William Gallas and Emmanuel Adebayor.
Gallas, like Campbell but to a much lesser extent left Arsenal on a free transfer to join Spurs, the Frenchman became the first player to appear for Chelsea, Arsenal and Spurs and captained them to a famous 3-2 comeback victory at the Emirates, their first victory at Arsenal since 1993.
After a good start, injuries disrupted Gallas' time at Tottenham and he was released in 2013 and played for Perth Glory in the A-League before retiring in 2014.
Adebayor moved from Manchester City to Spurs, first on loan for a season and then permanently in 2012.
The Togo international was already a villain following his Arsenal departure and a controversial incident in which he ran the length of the Etihad to celebrate in front of the Arsenal fans.
His move to White Hart Lane did nothing to endear him to the Arsenal fans, however, like Bentley and Gallas his time at Tottenham was a mix of great and bad.
His first season was great as Tottenham finished fourth and only missed out on Champions League football due to Chelsea winning the competition, however, under Andre Vilas Boas his form deteriorated and despite some resurgence under replacement Tim Sherwood in 2014, he was released in September 2015.