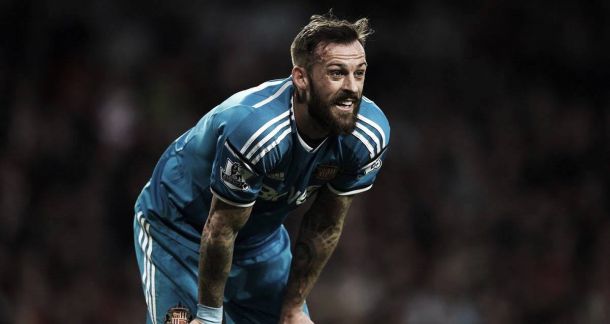 Ian Wright believes the isolation of Steven Fletcher cost Sunderland in their 1-0 defeat to Southampton at the weekend.
Speaking on the BBC's Match of the Day, the former Arsenal forward highlighted Fletcher's hard work up top in the game, but also the lack of support he received from his teammates as well.
Wright saw this as the main reason for Sunderland's lack of offensive threat as they again failed to find the back of the net, despite the Scottish international having started the season in good form.
Can't play long ball if Fletcher is alone
Sunderland opted to play a lot of long ball on Saturday, a direct style of play that would get the ball forward quickly. With Fletcher up front, this was justifiable too, the striker great at winning the ball in the air and holding it up, as manager Sam Allardyce has admitted before.
However, neither Duncan Watmore nor Adam Johnson, the two starting wingers for the Black Cats, got close enough to their teammate for this tactic to be effective, as Wright highlighted.
The pundit was confused by the approach, saying that, if long ball was Sunderland's "game plan" then the players around him, particularly the wide men, "should be closer" to Fletcher.
The striker did well to win his fair share of aerial duels in the game, despite being up against Virgil van Dijk and Jose Fonte, but his knockdowns weren't latched onto by anyone in red and white because there was "no support for him" with the striker and the wide players "20 yards apart."
Two up top needed?
Allardyce reverted back to a 4-2-3-1 set-up against the Saints having seen his side fall to a 6-2 defeat at Everton last week whilst using a 3-5-2 formation.
However, sacrificing an attacking option to get more men behind the ball did not lead to a change in result, with Yann M'Vila's foolish mistake seeing the team concede a penalty, and the conversion of that was the difference in the end.
Unable to pose a real goal threat, once Sunderland fell behind, they never looked like levelling and that was down to Fletcher being isolated.
If the Black Cats are to get results this season and ultimately avoid the drop, then they are going to have to show more going forward, as "there was nothing for [Fletcher]" to feed off at the weekend.