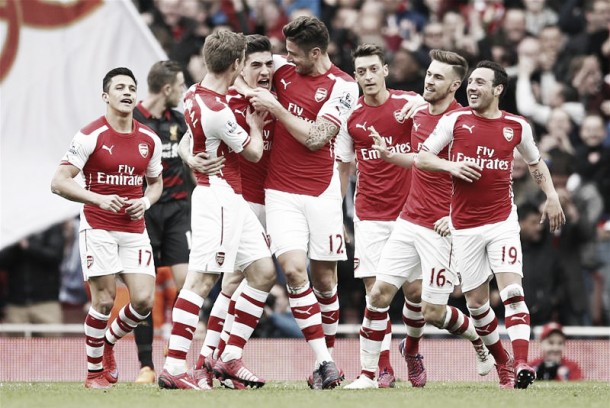 Arsenal have started off this campaign with a bang, sitting atop the table along with Manchester City on 26 points.
The Gunners did suffer a tough defeat against Chelsea who have been in extremely poor form lately. The champions lost to Arsenal in the Community Shield in a 1-0 defeat so each side has a victory this season.
Injury woes hurt Arsenal
The problem for the Gunners has always been injuries. That problem still persists today as Alex Iwobi was the only attacker that was on the bench in the North London Derby. Alex Oxlade-Chamberlain, Aaron Ramsey, Theo Walcott, Jack Wilshere, and Hector Bellerin are all injured; all of these players are key to the success of Arsenal and without them, the performances suffer.
In the match against Tottenham, Bellerin especially was deeply missed. His attacking threat from right back, Mathieu Debuchy just does not possess. If the injury plague remains with the Gunners, they will not be able to win the title. The depth they have simply isn't strong enough.They do have depth though, but with so many injuries it is so hard to withstand other stronger sides like Manchester City who have so much depth even with injuries.
The good news for the Gunners is their record signing Mesut Ozil has been in tremendous form. He has scored one goal and has recorded 11 assists which is the most any player in Europe has earned. The German World Cup winner has been the center of most of Arsenal's attacks this season whether he was starting the attack, or making the final pass, he had something to do with it. His one goal may seem like he hasn't performed up to par in that department but he has gotten unlucky in a couple occasions as he has hit the post multiple times this season. If Ozil can keep up his impeccable form, Arsenal should not have a problem at that number 10 role.
No rest for Sanchez
The Gunners are currently on an international break and this is very good news for them as it hits at pretty much the perfect time. The bad news is Alexis Sanchez has joined up with Chile for the beginning of the World Cup Qualifiers. This is bad news because Alexis has not had a break in such a long time.
Sanchez had the Copa America in the summer and has played almost every match for Arsenal this season. He is clearly overworked and he clearly looks overworked while on the pitch. When Alex Oxlade-Chamberlain returns against West Bromwich Albion, we may see Arsene Wenger rest Sanchez and give Oxlade-Chamberlain the start.
All these factors lead up to Arsenal having a shot at the title this season. With Chelsea sitting in 16th, that is just one less big team Arsenal have to compete with this season. As of right now, it looks like Arsenal will battle it out with Manchester City for the title. Leicester City are not far behind the Sky Blues, but who knows if they will continue to play so well.
If Arsenal can stay consistent and injury-free, they have a serious shot at winning the title. Can they fend off Man City and win their first Premier League title in 11 years?