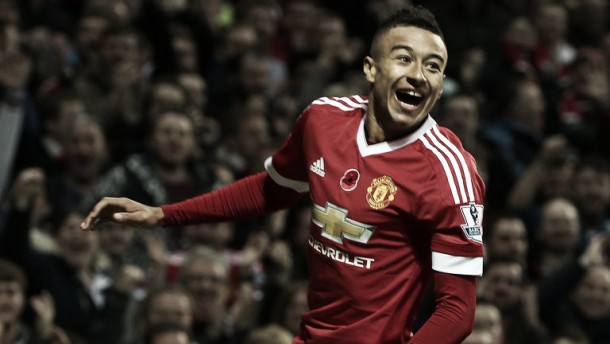 Manchester United's Jesse Lingard has been called up to the England squad ahead of Tuesday's friendly with France.
Lack of men
The United youngster has been called upon by manager Roy Hodgson ahead of the home friendly with the Euro 2016 hosts after two key players were forced out.
United teammate Michael Carrick was carried off with ankle damage in the last minute of England's 2-0 defeat to Spain on Friday night.
Leicester City's Jamie Vardy has also had to withdraw from the squad after missing the match in Alicante with a knock that he picked up for his club when they took on Watford in the Premier League last weekend.
Angry van Gaal
Lingard's sudden inclusion in the squad is likely to anger United manager Louis Van Gaal after he explained that he doesn't believe that the youngster is prepared to step up into the England squad.
Lingard has represented England at under-21 level on 11 occasions but, speaking after the 2-0 victory over West Bromwich Albion in which Lingard scored his first senior United goal, van Gaal said that the player isn't ready to step up to the next level.
The Dutch manager stated that it would be "too much too early," adding that we have to "wait to see" if he is "consistent".
Friendly go ahead
Many didn't expect Lingard's potential England senior debut to be happening following the tragic events in Paris on Friday night.
Three suicide bombers died in blasts outside the Stade de France while France hosted Germany.
It is believed that 129 people were killed in attacks across the French capital the worst atrocity on European soil since the Madrid bombings in 2004.
But after discussions between the two nations, the friendly will go ahead as planned with French Football Federation president Noel le Graet confirming that the side will travel to London.
Hodgson welcomed the decision saying he "respects" it and will "prepare accordingly" both "on and off the pitch"
England will host France at Wembley Stadium on Tuesday 17 November, with kick-off at 7:45PM BST.