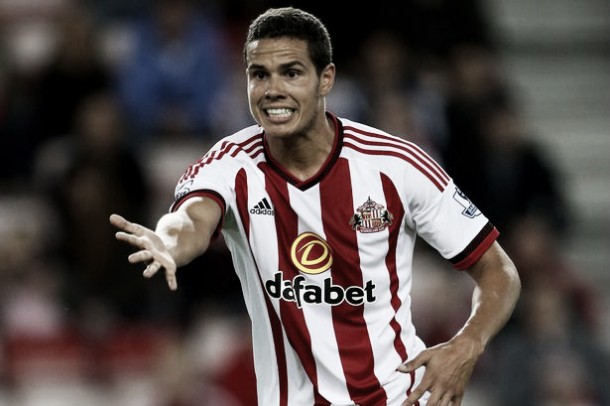 Sunderland midfielder Jack Rodwell has said that he is determined to maintain his fitness to help the Black Cats with their relegation battle.
Stagnated career
Rodwell was touted as one of the brightest prospects in English football during his time with Everton, which even earned him an England call-up.
However, since his £15 million move from Manchester City his career has stagnated. He only made 16 appearances during his time at the Etihad before the move to Stadium of Light and is struggling to get in the first-team on Wearside.
Rodwell keen to crack on
Rodwell has been improving so far this season and has appeared in the last two league matches against Everton and Southampton, and is now determined to put his injury nightmare behind him.
He told the official Sunderland website that it is "important" for him to have a run of games as when he has a niggling injury as it always sets him back, but he insisted that is important to "stay fit" and keep trying to "get into the team."
The midfielder went onto say that he also wanted to "keep building" on his progress and "help the team".
Saints improvement
Rodwell was brought on in place of the Steven Fletcher last weekend during the narrow defeat to Southampton, a result he admitted was a big blow to the players, though he thinks that there were many positives to take from the contest.
Rodwell said that Sunderland defended "really well" but believes that they "need to do more" to win matches.
He said that they were "quite solid" throughout but it was the penalty that ultimately cost them but believed they were solid enough to "deserve the draw".
Reid Criticism
Rodwell has come under fire recently, specifically from former Sunderland manager Peter Reid who said that first team football should be the priority for the best young English talent.
Speaking to the Mirror, he said that "footballers have to play" and it is all about "time on the pitch", especially at a young age.
He added that the "best players" reach the top of the game by "playing regularly," slamming Rodwell and Aston Villa's Scott Sinclair for their career choices so far which have denied them of this and disrupted their development.
Sunderland will visit Crystal Palace on Monday 23 November with kick-off at 8PM BST.