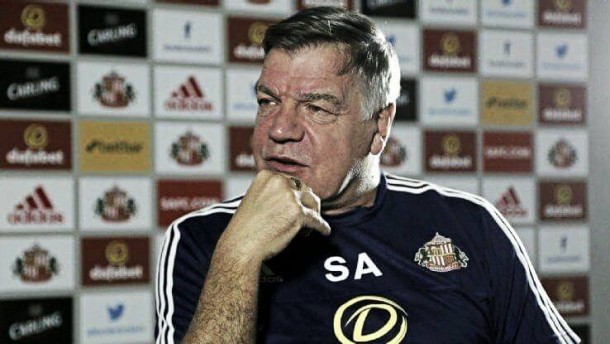 Sam Allardyce has said that competition for places should spur on his Sunderland players, with the team sat second-from-bottom in the Premier League table and in need of some bite to ensure survival this season.
Academy product Duncan Watmore's first start for the club in their latest game, a 1-0 defeat to Southampton, was a clear sign from the manager that he will not put up with players underperforming whilst others give more.
This week, Allardyce has reaffirmed this point in his own words, saying that dropping players should in fact motivate them to improve and take their opportunities to impress, and the Black Cats will hope this rings true as they look to avoid the drop this year.
Being left out should make players 'hungry', says Allardyce
Speaking to Chronicle Live this week, the manager admitted that he is looking for good responses from players when they are dropped, as it is his way of telling them that they need to step up their game.
Allardyce revealed that he does in fact "want lots of choices" regarding his team selection, not just because it gives him "lots of options," but because it means he has to leave people out every week which can motivate them.
"Disappointing" players "should make them more hungry," said the former Bolton Wanderers boss, as it should lead to them not "accept[ing]" the situation and instead "try[ing] to do more" to catch his eye and tell him that he should be "picking" them and "giving [them] a chance" instead.
Quantity, not quality
This is certainly what Allardyce will be wanting from his team as he does not have an abundance of quality at his disposal, but a high quantity of footballers instead, and the sheer amount of options means that someone will always be left out and it is then down to them to respond positively to help the team.
Players like Danny Graham are doing this, the out-of-favour striker banging in the goals for Sunderland's under-21s, but whether or not he will earn a return to the team as a result seems unlikely given that the attack is not the problem.
Defence is instead where issues are arising, but another man given few chances this season, Wes Brown, failed to take his opportunity to regain a spot in the team when given it against Everton recently, the team conceding six goals on the day in a crushing defeat.
It is the responses from the likes of these players, and the youngsters given chances, that will characterise and ultimately define Sunderland's season as they need to start picking up points soon before they are left behind by their league rivals.