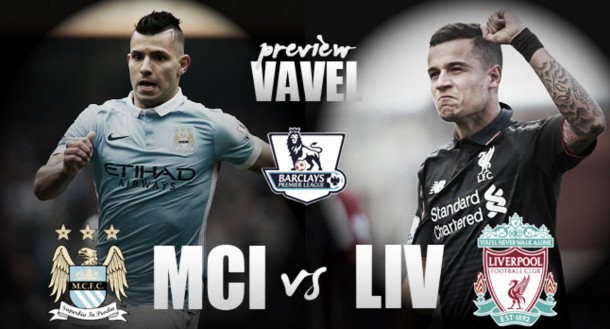 Manchester City will play host as Jürgen Klopp's Liverpool pay the Sky Blues a visit, hoping to dramatically improve after the dismal 0-0 draw against Aston Villa prior to the international break.
The Liverpool faithful will certainly be eager to see former Red, Raheem Sterling falter, though claims that he wouldn't be able to cope with the step-up have been laughed off as he has scored six goals in all competitions and has got three assists to his name.
Often wasteful in shooting opportunities, Liverpool will have to have an approach to deal with the tricky and rapid wide man, otherwise his name could be in the headlines come the final whistle much to the delight of Sky Blues everywhere.
City's last performance was one most fans will prefer to gloss over come the end of the season. An afternoon where City couldn't find their shooting boots, hitting the post and bar on several occasions in what was a very frustrating afternoon for the Sky Blues as Villa clung on for the single point. Liverpool too will look to hit the ground running after a 2-1 defeat at Anfield, to what is becoming their new bogey-team of late, Crystal Palace. It could have been argued that the mid week trip to Rubin Kazan, prior, may have taken a toll but certainly left Klopp disappointed.
Team news
Manchester City fans will very much be looking forward to the return of Sergio Aguero and David Silva, who picked up muscle and ankle injuries respectively in October's international break. Sadly however Manuel Pellegrini views Silva's injury with the potential for further aggrevation, so he will most likely sit this one out. Aguero on the other hand is reported as being fit so may look to get a run out in Saturdays game Whilst they haven't been missed as some may have thought, the return of these too will give Pellegrini a lot more bite in attack than he's had in the last five games.
Fabian Delph on the other hand has yet to be blesssed with such luck, missing England training earlier in the week, the FA saying he was "unfit to train", another muscle injury perhaps as Delph is yet to play more than 30 minutes in a competitive match for the blues. As for Bony, Nasri and Kompany, they will all miss Saturdays clash. Samir Nasri with a particularly long lay off, posting on Instagram a picture of him on crutches captioned with "what doesn't kill you make you stronger, I will be back better than ever see you in 3 months" not the news any fan wants to hear.
Liverpool are far worse off however, currently topping the injury table with ten injuries, most notably the injury riddled Daniel Sturridge, Jordan Henderson and Mamadou Sakho. Young talent Jordan Ibe will look to make his return this weekend, giving Bacary Sagna, plenty to think about, as well as former Sky Blue James Milner who looks to be fit upon his return to the Etihad. Whilst their squad is heavily depleted, they still have the likes of Phillipe Coutinho, Roberto Firmino and Christian Benteke all of which have the talent and skill to trouble any opponent, needless to say whether it be Mangala or Demichelis partnering Otamendi, the back four will have their work cut out.
What they say?
Manuel Pellegrini meanwhile wants to recapture the form that saw them being the first English side and side in other competition apart from Real Madrid. "We're the only English team to have qualified for the next round of the Champions League. We've also qualified for the quarter final of the Capital One Cup and we're top of the Premier League". The majority of questions put to the Chilean at the press conference, revolved aroud James Milner and Raheem Sterling facing off against their former employers with Pellegrini stressing City did all they could to keep James at the club and he also backed Raheem to be an important player for club and country for many years to come.
Jurgen Klopp has acknowledged that the injury crisis at Liverpool currently, is making life for him very difficult and has stated that whilst there may be the need for January signings should the situatuion deteriate, "I'm not the guy who buys 10 players today and sells 10 players tomorrow because we want to work together". A world away from the days of Brendan Rodgers, most notably the summer of 2014 saw 9 new faces brought to the Kop and many of which failed to make their mark and have sought loan moves away from Merseyside.
The verdict
It looks to a fiery affair in what is being billed as the fixture of the weekend and rightly so. Two sides with fantastically talented players and what with Liverpool's leaky defence of recent, it'll be an afternoon where City look to terrorise the Merseysiders back four especially with the return of Aguero. I predict a 3-1 victory for City with Raheem Sterling to score of course.