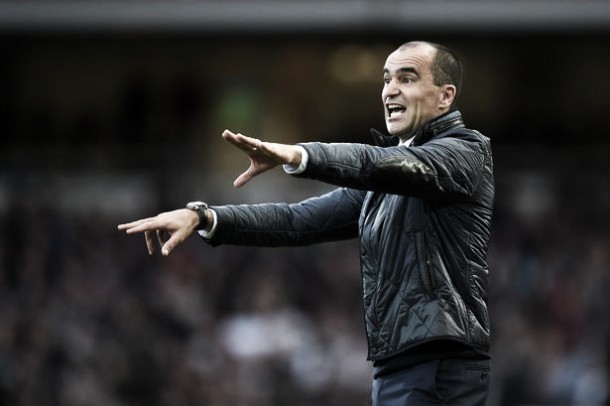 Everton got through the international break without any injuries and players came out of the break with a huge boost in confidence.
Roberto Martinez said there is a "real satisfaction" that his side are not facing anymore of the latter, with injuries to key players having hampered Everton's chances so far to reach a higher spot in the table.
They head into this weekend's game against Aston Villa with an almost fully fit squad, and will hope to take advantage of that.
Martinez on setting targets
While setting out the new few games as pivotal for Everton, the Toffees boss is not setting any sort of final points total for his side.
He said that in the Premier League it is "impossible" to set any sort of target apart from just wanting to "win the next game." Martinez is confident in his squad, saying they can "compete against anyone" and that his team will not be "inferior" to any opposition.
Martinez added that the Blues aim is to be "[their] best every time [they] step on to the pitch."
On the opposition, Aston Villa
Aston Villa are under new management. Rémi Garde is in charge, taking over from Tim Sherwood, and Martinez recognised that Garde already has a "clear idea" for how he wants Villa to play.
The Villains were resolute in defence against Manchester City in Garde's first game in charge, a game which finished 0-0, and Martinez was personally scouting at Villa Park.
This match begins a run of games for Everton in which they should be favourites for each game, and so the manager has identified this period as "really, really important" - and it all begins with Villa.
On the return of Leighton Baines
Everton could welcome Leighton Baines back this weekend, but Martinez was quick to urge caution, saying Baines will not be "rushed back" into the team.
Martinez said he won't put "any pressure" on Baines, who has not played a single game this season yet, and that the Toffees will have to "air on the side of caution" with regards to his return.
The Spaniard may not have a choice, however. Bryan Oviedo is still a week or two away from fitness and Brendan Galloway had to withdraw from international duty during the break through injury, with his status touch and go for Saturday's game.
Baines is a key player for Everton and a huge factor in the way they play. He is able to get up and down the pitch, creating chances and usually causing problems for opposition defenders.
The Everton boss finished by saying Baines' availability will be decided on Friday.
Injuries and fitness
There no new injuries for Everton and they should be able to welcome back two long-term injuries in Baines and Tom Cleverley.
Cleverley has been on the verge of returning for a few weeks now but Martinez said he looks "strong in training" and that he'd be a big boost to add back to the squad.
Phil Jagielka, Tony Hibbert and Oviedo are all "progressing well" according to the manager too, but are on their own timetable in regards to a return.
Galloway and Tyias Browning pulled out of England U21 duty and Browning requires a scan before his club is able to know the extent of his injury.
Martinez gave an update on both, saying that Browning felt an injury in his knee whilst Galloway has had a withstanding injury for a few weeks, but the latter has responded "well" to treatment and could be in contention for Saturday.
Muhammed Besic played 45 minutes for Bosnia and Herzegovina as he returns from injury too and Martinez said he has felt "no effects" following this, meaning he could also be in contention for the visit of Villa.