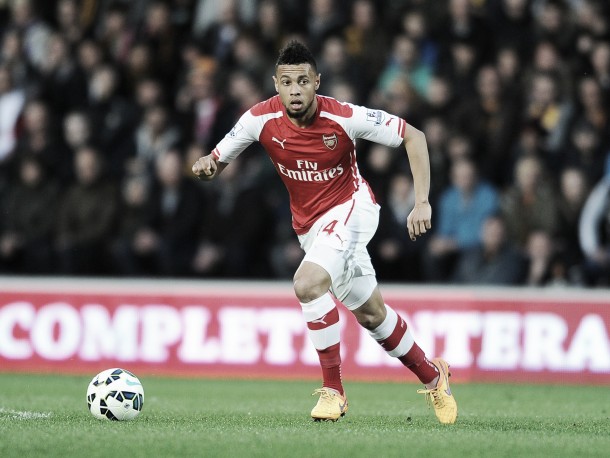 Arsenal go into their must-win game against Dinamo Zagreb on Tuesday without key midfielders Francis Coquelin and Mikel Arteta who are ruled out after Saturday's 2-1 defeat to West Bromwich Albion.
It's a huge blow to the Gunners' chances of progression in Europe, and Premier League title chances, as Coquelin faces the rest of 2015 out with a knee injury.
Shocker in Croatia
Following the 5-1 defeat in Munich against Bayern Munich, Arsenal cannot afford a repeat performance of the 2-1 defeat they faced in the opening week of the UEFA Champions League group stage in Zagreb.
If the Gunners are to have any chance of progressing they must beat Zagreb at the Emirates which, assuming Olympiakos are defeated by Bayern, would set up an all or nothing final group game clash in Greece where they must win by two clear goals.
However, with a heavily depleted team, in which Alex Oxlade-Chamberlain, Danny Welbeck and Theo Walcott are all expected to be out, this will be no easy task for Arsenal.
One solace is that Welsh international Aaron Ramsey should be fit to return against Zagreb, but with no Coquelin or Arteta, Ramsey may have to partner Santi Cazorla in the middle of midfield rather than start on the right where he's become accustomed to this season.
Although a central midfielder, Ramsey and Cazorla's partnership leaves little defensive cover for the Gunners in midfield and may leave them over-exposed to Zagreb attacks.
For Zagreb, they are only missing Arijan Ademi who last week was banned from football for four years following a failed drugs test after Zagreb's 2-1 win against Arsenal.
Zagreb and Ademi deny the charges and say they will appeal his lengthy ban.
Avoid Europa League at all costs
Bizarrely, victory over Zagreb may be more costly than it should be, as, should Arsenal fail to overtake Olympiakos, they could fall into the Europa League if they finish third in their group.
Although the Gunners would be one of the favourites to win the competition, the effect of playing Thursday and Sunday for the rest of the season could be detrimental to any league title chances.
But Arsenal do have a decent record in the competition, making the final in 2000, the last time they were demoted from the Champions League to the UEFA Cup in the group stage.
However, with the league title race so open, Arsenal can ill-afford any costly distractions in the second half of the season and the Europa League's fixture scheduling has been viewed as a hindrance in England.
Assessment
Even with injuries in key positions, Arsenal should have too much for Zagreb at the Emirates. Failure to win against the Croatian champions would bring up further questioning of manager Arsene Wenger's performances in Europe, where he hasn't made the last eight since 2010.
Failure to win would also mean that, for the first time in 16 years, Arsenal will not have got out of the Champions League group stage.
However, if the players can replicate and sustain their first half hour performance against West Bromwich Albion, and with the comeback of Ramsey, then Zagreb this time should be no problem for them.
What they must avoid is the lapse in concentration they had against Olympiakos in late September where the Greek side were able to get back in front almost immediately after the Gunners' second equaliser.
Arsenal should treat Zagreb with the same respect they treated Bayern Munich in the 2-0 win at the Emirates and not take their lesser European opponents for granted.