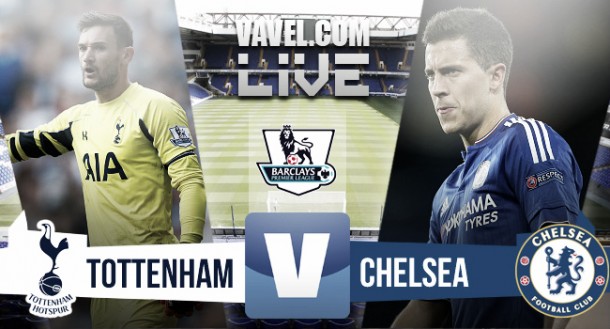 13:56 - Thank you for joining me for VAVEL's coverage of Tottenham - Chelsea make sure to check out the rest of the coverage coming up today. You can find me on Twitter @Danialkennedy95 and until next time have a great afternoon
13:55 - This means Tottenham retain their place in 5th while Chelsea manage to make their way up the table into 14th
13:55 - The second period did live up to the same expectations with very few chances going to either side but in the end a point in a tough London derby after long midweek trips will suit both sides.
13:54 - The first period was a great watch with Chelsea pretty much dominating the proceedings with Eden Hazard having the best opportunity of the match
13:53 - Spurs managed to extend their unbeaten run in the Premier League in less than spectacular fashion
FT - Tottenham 0-0 Chelsea
90+4' - Azpilicueta is shown the yellow card for timewasting
90' - Pedro has been brought off to be replaced by Loftus-Cheek
90' - Four minutes have been added on
89' - Late sub with Willian coming off for Kenedy
88'- Looks like this contest is heading for a draw Kane tries the overhead kick but is well wide of the mark
78' - Chelsea were nearly gifted a chance when Alderweireld got his header wrong but Oscar couldnt compose himself to get the shot away and it remains goalless
74' - Son replaced by Njie
68' - Walker's poor defending allows Hazard to get onto Ivanovic's ball but the low volley is palmed away by Lloris
64' - Lamela is making an instant impact as he lifts a ball over the Chelsea defence into Son but it was comfortable for Begovic still 0-0
59' - Matic is next to pick up a booking after bringing down Eriksen
57' - First sub of the afternoon with the injured Mason replaced by Erik Lamela
53' - Vertonghen is the latest name added to referee's book
52' - Quite a quiet start to the second half proceedings, Zouma had a good chance when Willians free-kick was whipped in but he was inches away from making contact and eventually went through to Lloris
46' - Chelsea get us back underway at White Hart Lane
12:50 - Chelsea's front four have proved difficult to deal with so far but Spurs have managed to hold them back so far. Should be another good 45 minutes toolook forward to
12:50 - Been a decent start from both sides in the first 45 minutes, Chelsea have had the best opportunity so far through Hazard but still remains 0-0
HT - Tottenham 0-0 Chelsea
45' - Walker booked right at the end of the half
44' - I was wrong as Tottenham have the final chance as the ball comes to Kane but was over the target
43' - Looks like the final chance of the half has fallen to the away side when Oscar did well to get into the area but cutting back on himelf but his shot was well over the crossbar
33' - First yellow card of the afternoon is handed to Danny Rose as he brought down Hazard
31' - Begovic produces yet another save! Dembele seems to have shaken off his knock by skipping past Cesc Fabregas before firing a low shot that look destined for the bottom corner but Begovic got a strong hand to it
30'- Half a hour into the match and it has been a good start to the match with both sides having great opportunities to take the lead but still remains 0-0
28' - Spurs come back at Jose Mourinho's side as he whipped in a good cross for Son but his effort was well saved by Begovic. Remains 0-0
22' - Another great chance as Hazard picks out Pedro on the edge of the area and hits a ferocious shot towards goal but Dier's defelction takes it wide. 0-0
20' - Chelsea were so close to taking the lead! Oscar curled a dangerous ball into the back post where Hazard was waiting but the Belgian couldnt keep down his header
19' - Alderweireld makes a crucial intervention infront of Lloris as Pedro is released behind the Spurs defence
17' - Kane was causing trouble once again when his shot from outside the area was spilled by Begovic but luckily for the keeper it is eventually cleared to safety
11' - Kane was looking for his 10th goal in seven matches when he was given a invitation to shoot on the edge of the are but his effort was blocked by Cahill. 0-0
10'- Chelsea are starting to get in the game with Willians low cross looking for Oscar but was too close to Lloris
5' - Spurs start well as Begovic is forced to bravely get down to the feet of Kane and the resulting corner is cleared at the near post.
1' - Spurs get us underway !
11:57 - Almost time to kick-off here with the sides making their way out onto the pitch
11:55 - Just five minutes until kick-off at White Hart Lane
11:32 - Chelsea starting XI: Begovic, Ivanovic, Zouma, Cahill, Azpilicueta, Fabregas, Matic, Willian, Oscar, Pedro, Hazard.
11:31 - Tottenham starting XI: Lloris, Walker, Alderweirald, Vertonghen, Rose, Dier, Mason, Dembele, Son, Eriksen, Kane.
11:26 - Spurs will be looking to make it 13 games unbeaten in the league against a recovering Chelsea side. Team news to follow
11:25 - Hello everyone I am Danial Kennedy and welcome to VAVEL'S coverage of Tottenham - Chelsea
Spurs managed to end their run of nine matches without a win against Chelsea in this fixture last season too, with goals from Kane, Rose, Andros Townsend and Nacer Chadli giving them a memorable 5-3 victory over the eventual champions.
Mourinho wont be confident of his sides chances on Sunday as Chelsea have only managed the one victory in their last nine visits to White Hart Lane.
A big absentee for the visiting side, however, could be John Terry after being stretchered off in midweek and missing training on Friday, but Mourinho claims that he could still captain the side on Sunday.
For Chelsea, Ramires is facing a race against time to be fit with a muscle problem but Cesc Fabregas could return after recovering from his midweek toe injury.
Dele Alli will be missing for the hosts as he serves a match ban for picking up five yellow cards, which will allow Erik Lamela to return to the side if he recovers from a groin strain. Moussa Dembele, Danny Rose and Kyle Walker didn't make the midweek game and are fully expected to return to the side while Son Heung-Min should retain his role in the team.
With qualification all but secured focus will now turn to trying to qualify for next season's competition, which will prove a task in itself as 13 points currently sit between them and their opponents, but a win will go a long way in helping the cause.
There, Chelsea edged closer to reaching the last 16 stage of Europe's elite competition with goals from Gary Cahill, Willian, Oscar and Kurt Zouma giving them a comfortable 4-0 victory over the Israelis.
Like their opponents, they faced a strenuous trip as Jose Mourinho's side travelled to Israel to take on Maccabi Tel-Aviv.
They just managed to win last weekend when Diego Costa's single goal gave them a narrow 1-0 victory over the newly promoted Norwich City and like their opponents they managed to carry their form into Europe during the week.
On the other hand, it has been a nightmare start to the season for the current champions Chelsea, but it does seem that the green shoots of recovery are beginning to sprout at Stamford Bridge.
However, they did face a grueling trip on Thursday when they had to travel to Azerbaijan to take on Qarabag FK, a single goal from Harry Kane, which was his ninth in six games, securing their place in the knockout stages of the Europa League. Pochettino will be hoping that the strenuous trip won't affect today's performance.
Mauricio Pochettino's side have been on a sensational run of form with their only defeat in the league coming on the opening day to Manchester United and are currently on a run of 12 matches unbeaten in the league.
They impressed last week when they played out an impressive 4-1 victory over their bitter rivals West Ham and carried that form into Europe midweek.
Tottenham Hotspur will be looking to make it 13 leagues matches unbeaten today when they host the London derby with current champions Chelsea.