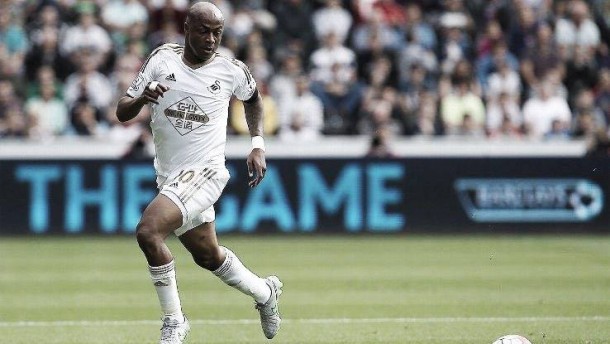 Out-of-sorts Swansea City travel to Anfield this Sunday to face an in-form Liverpool side, and striker Andre Ayew is keen to help his team get out of their slump by improving on a personal level.
The Swans are currently on a run of three winless games, with their only victory since August coming against bottom side Aston Villa.
Liverpool, therefore, will be as tough a test as any, especially after they hammered Manchester City 4-1 last time out, and Ayew is looking to sort out his own form in order to help his team's.
Variety needed to overcome difficulties, says Ayew
Despite being Swansea's top-scorer this season with six goals, Ayew has been kept quiet in recent weeks, with Premier League rivals well aware of his threat and focused on dealing with that.
The former Marseille man, therefore, has been speaking to the Daily Star about changing this, saying that people have started "to use different tactics" to keep him "quiet" and now it is up to him to "work even harder" to stop these from stifling him.
Ayew admitted that "things are becoming more difficult" for him as a result, and, thus, "the team" too, but conceded "that is the nature of the game" before adding that it makes you "respect" players like "Lionel Messi and [Cristiano] Ronaldo" as they are "always" able to "find ways to influence a game," despite everyone being well aware of their threat.
The 25-year-old made the switch from Ligue 1 this summer and was immediately a hit at the Liberty Stadium, scoring in his first two games to help the Swans earn a point against champions Chelsea and all three at home to Newcastle United.
However, because of that fast start, he believes people now "mark [him] with a different eye" and if you keep your style of play "the same" in these cases "you will not be effective."
Ayew thinks that "to be ambitious" and "a great player," you must always aim to "do more" and that is what he will be looking to do when the Welsh side make the trip to Liverpool on Sunday.
Striker relishing clash with reported suitor
As aforementioned, Swansea head to Merseyside in contrasting form to their hosts, who are brimming with confidence as Jürgen Klopp continues to work his magic.
The visitors do have a slight advantage in that the Reds will be in action on Thursday in the Europa League, facing French side Bordeaux, but Ayew recognises that it will still be a "difficult" game against a team with "a big squad" - which means the affects of midweek action are reduced.
The attacker says he and his team will go there "with confidence and belief" as they aim to "get something" from the game though, regardless of what their chances may be on paper.
With manager Garry Monk under pressure, the Swans will be even more motivated to get a result, whilst Ayew himself may want to put on an especially good performance against a team who were reportedly in for him this summer, whilst it has even been speculated that Klopp could move for him in January.
However, the Ghanaian international suggested that these rumours are nothing, acknowledging that they were about, but that the most "important" thing is he's "at Swansea" now and he's "happy" at the club.
Liverpool will welcome Ayew and his side to Anfield on Sunday afternoon, with kick-off at 16:15 BST.