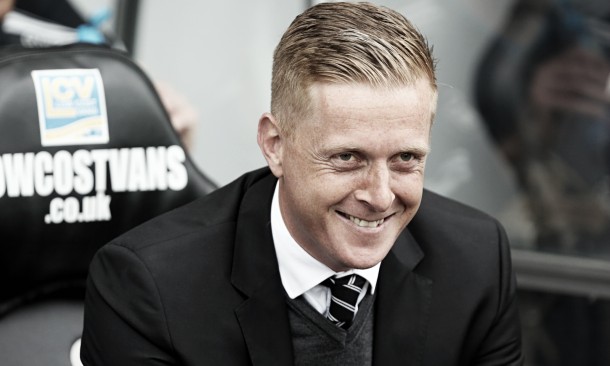 This Saturday will see struggling Swansea City take on a confident Liverpool side as they look to rescue their season before it's too late, and no one needs a result more than under pressure manager, Garry Monk.
Swansea's disappointing draw against Premier League new boys Bournemouth left much to be desired for most fans, and though Monk's side did show character fighting back from a 2-0 deficit to salvage a point, the Welsh outfit are still in the need of a victory.
Personal fight
With Swansea set for a huge challenge in going for a result against a Liverpool team who ran riot against Manchester City in their last outing, Monk has assured fans that "no-one wants to put it right more than [him]" showing he is ready for the fight that now faces him.
The season's struggles haven't been for a lack of effort on the young manager's behalf either, as he claimed, "everyone knows how hard I work" and considering that a similar message was given by club captain Ashley Williams when he publicly backed his boss, it would appear that certainly is the case.
But the manager is aware of the dire situation his club are currently in, telling the South Wales Evening Post that "it's hard, of course," and with the club sitting 14th in the league, it's clear that hard times have fallen on the Swansea team that has impressed ever since becoming a top flight club.
Positive thoughts
Even though Swansea are facing an uphill battle to get a result this weekend, Monk remains confident in his side, saying that he has "a group of players [who he has] massive belief in."
His aims now are to simply "carry on and keep pushing these players" as he believes that just "one result or one good performance can change your whole mentality" and a positive one against Liverpool could prove to be the catalyst that the club need to get back to form.
Despite the bad press, poor results and rumours of dismissal, Monk appears to be remaining calm and contained and it's clear he has the backing of his dressing room which could prove vital in his fight to survive at the club.