 Newcastle United have just been humiliated by Alan Pardew's Crystal Palace side. Five goals to one, in a game where eleven players showed less heart than they've shown all season, which takes some beating/
The little patience that was left with manager Steve McClaren seems to have finally ran out and his 'judge me after 12 games' quote is now even more relevant. But is it wise to sack McClaren based on the Newcastle United hierarchy's previous form of picking managers?
Finding Mr Right
In the past, under Mike Ashley's regime, Newcastle fans have been subjected to the likes of Joe Kinnear and John Carver in charge. Who in their right mind thinks those managers would be the right men to lead us forward?
Even the appointment of McClaren wasn't an inspiring one. Many fans championed him for the job when Pardew left in January, but after watching his Derby County side slip miserably down the table after being promotion favourites, few could be persuaded that a man sacked from a second tier club could be the answer.
The argument that he is a 'good coach' now also comes into question. Fans could be optimistic after a well earned point at Old Trafford and a reasonable performance against Southampton in the first couple of games. It was also impressive the way McClaren set his ten men up against Arsenal, despite losing 1-0. But at this current moment Newcastle have around ten players in our squad that play international football, yet recent form would suggest they have ten Sunday league players in their ranks.
It's one thing being a good coach and producing quality football, that probably leaves more room for leeway when it comes to being a good man manager, but McClaren looks to have neither of those abilities in his locker at the moment.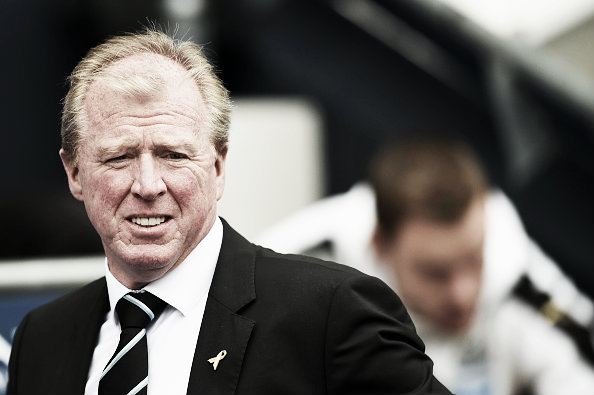 History Books
If track record is anything to go by, however, there shouldn't be much optimistic that sacking McClaren is the right thing to do. The board members at Newcastle United need to realise something that should have been obvious to them a long time ago: Newcastle need a manager who knows the Premier League. Sitting around the relegation zone seems like it's just an everyday part of being a Newcastle supporter these days and until a manager is appointed who can turn sides around, this will more than likely continue.
To back up this argument, there has been a number of scenarios in which this has proved to be the smart way to turn a Premier League side round. Number one: Tony Pulis. A man who transformed Stoke City into a Premier League standard team, before saving Crystal Palace AND West Brom from potential relegation. Like his style or not, a boss like Pulis who fans could trust to get players believing and playing for each other surely would be welcomed.
Next, over the river. As much as many disagree with their model of repeating this every season, Sunderland always seem to find a manager to keep them out of danger when it matters most.
Most recently, even though it is early days, Sam Allardyce has been in charge for one month and he's already produced three wins and managed to leapfrog Newcastle in the league table. In the long term, it gets you nowhere but it'd be a good thing for Newcastle to consider in the short-term.
Finally, When QPR inevitably went down back in 2012/2013, they waited until the end of November to sack a flailing Mark Hughes. The club were seven points off safety and when Harry Redknapp took the job, they were already beyond mending. The club finished bottom and were eventually 14 points from safety.
Newcastle United could easily find themselves in the same position.
Available Replacements
But who is there to replace McClaren? Well, for once, there may be some big names available.
David Moyes and Brendan Rodgers lead the betting but others include Roberto Di Matteo, Michael Laudrup and Sean Dyche. All of the above have top flight experience and huge credentials.
Despite this, confidence remains low that if it came down to it, none of these men would be appointed or even approached. French managers who are out of work would be linked with the job, just as Remi Garde was over the summer; and look how well it's going for him over at Villa.
Players Must Take Responsibilty
Despite all the shortcomings in the boardroom, the players must take a hefty part of the blame. McClaren can only work with what he has in front of him, and if he has 25 players not wanting to fight for the team, there is only so much he can do. In this regard, you have to look towards the scouting system.
For years, Graham Carr was donned as a genius for capturing bargains such as Yohan Cabaye, Cheik Tiote and Moussa Sissoko. But nowadays? Well, his recent track record isn't exactly fantastic.
If your main scout thinks Florian Thauvin is worth more than £12 never mind £12m then something is horrifically wrong. Cabella mark II has been nowhere to be seen since his debut at Northampton Town. Voted in the worst XI in 'L'Equipe' magazine last season, it baffles me why he was brought in whilst players like Dmitri Payet were missed.
To summarise, For the club to turn this round, McClaren surely has to leave before the club find themselves thrown deeper into this relegation battle but it is essential the right appointment is made to stop this cycle of mediocrity and heartache on Tyneside.