 Shane Long believes that there were plenty of positives to take from the loss against Manchester City yesterday, despite the Saints struggling to settle early in the first-half at the Ethiad.
The Republic of Ireland striker was handed his second consecutive start following his return from injury last weekend, as Graziano Pellé acculumated his fifth booking of the Premier League term, meaning he was consequently suspended.
Long content with Saints' spirit despite loss
The 28-year-old, who has been at St.Mary's since August of last year, netted his fourth goal of the campaign after a neat header from Sadio Mané's excellent cross into the box.
Long insisted that, even though City had a two-goal cushion after just twenty minutes, it would have been "very easy" for them to "roll over and let them get three or four", but was content with their never-give-up attitude, giving both the players and travelling supporters a morale boost in the early exchanges of the second-half.
"I think, all the home fans were nervous." Long on his goal to make it 2-1
He also said, you could see the away fans were "bouncing", and consequently "expected a bit more" from their players, to try and get themselves an equaliser. If not for Willy Caballero's sharp close-range stop to deny Dušan Tadić, the Citizens' lead would have vanished.
"Those little things could have changed the game, but we can hold our heads high."
Koeman reflects after disappointing defeat
Meanwhile, Ronald Koeman admitted their slow start to the match ultimately cost them a real opportunity to challenge the League leaders. As quoted by the club's official website, Koeman said their start to proceedings was "very poor", because they'd made plenty of mistakes in possession of the ball.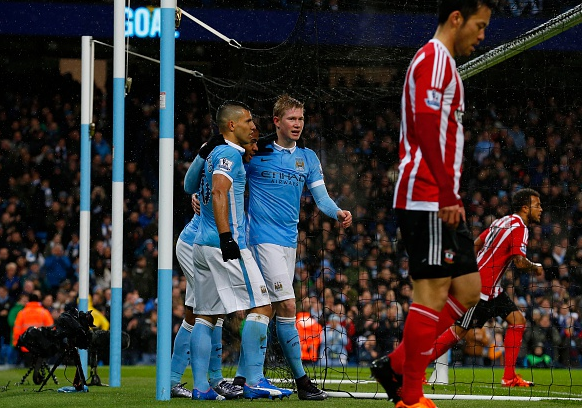 On City's first goal, the 52-year-old said it was self-inflicted, which was "very disappointing" to take. An improved display in the second-half, was what he'd expected in the beginning, and although they did well to get within a chance of stealing a point, it proved too little, too late in the end.