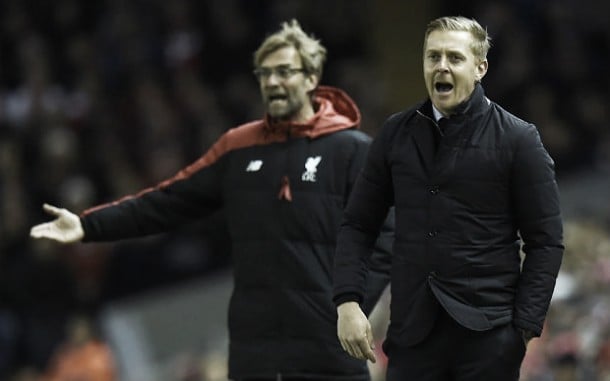 It was a penalty that sealed Swansea City's fate this week as they were defeated 1-0 by Liverpool, slipping to 15th in the table in the process, and the pressure is continuing to grow on manager Garry Monk as the safety of his job remains in question.
Questionable penalty
The game was ultimately determined by a 52nd minute penalty which was scored by James Milner to win his team the game, but Monk questioned the decision to award the spot kick as he felt it was "very soft".
An alleged handball was the reason given for awarding the penalty as Neil Taylor appeared to be struck on the arm with the ball following Jordon Ibe's cross, but Monk wasn't happy with the game changing decision, believing it "had to be deliberate" to be given, clearly showing he that it wasn't so he didn't agree.
Monk felt that the penalty was an even bigger blow to his team as his "players were excellent" in the game, so the decision left the manager "gutted" as it meant that his side walked away with nothing for the trip back to Wales, despite their efforts.
Whether awarding the penalty was the right decision or not, Swansea couldn't provide a clinical response to take at least a point from the game, but fans should be pleased with the effort that was displayed in Merseyside as a much improved performance was shown.
Improved efforts
It was clear by the spirit and performance of Monk's side that, with all the speculation, the squad has come together to attempt to get their season back on track, and even in defeat Monk felt "it was an excellent performance" and that it "deserved much more than it got".
These were performance levels that he will be hoping his team can maintain as it will likely see the club win more than they lose, ensuring their season doesn't involve a relegation scrap, something that the manager doesn't think Swansea will be near this season.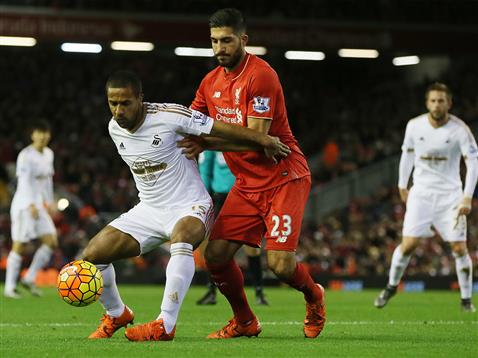 Even with his side sitting 15th, Monk claimed that there is "never any danger" of his side "being in a relegation fight", the sort of confidence that might seem strange to neutrals given the team's current situation, but will be essential should Swansea hope to avoid a battle for the drop.
Recent results would provide a strong case against Monk's beliefs, with Swansea now without a victory in 10 games, something the manager is aware of, with him saying that "of course [the team] need to get points" but that they will "get that one result, and you'll see [them] fly again."
Backing from Klopp
With the media currently making life difficult for the Swansea boss and his board reportedly considering his position, things don't get any easier for Monk as the next trip will see his team take on Leicester City, currently flying high at the top end of the table in second.
But Liverpool boss Jürgen Klopp has backed his fellow managing colleague, stating how he would be "surprised if it was the right decision to criticise [Monk]" as the Premier League's new man feels that Swansea "play really well."
The kind words would have likely softened what was another mighty blow for Monk, who knows that no matter how many high profile names back him, if results don't change, then something else will.