 Fourth place Arsenal are set to play seventeenth place Sunderland this Saturday in the Premier League.
Fifteen points may separate the two sides but Sunderland striker Jermain Defoe could quite easily feature is Arsenal's starting XI.
Arsenal have failed to clinch the Premier League title since 2004. Many fans and pundits believe Arsene Wenger's reluctance to invest in a clinical goal scorer is the main reason for their recent failure.
Jermain Defoe has scored a total of 132 goals during his Premier League career, whilst also having played his trade in the MLS.
The 33-year-old was surplus too requirements at Tottenham Hotspur and as a result, the former England international opted for a move away from English football to represent Toronto.
Many believed this was to be the final move of Defoe's career but the England international secured himself a transfer to struggling Sunderland.
The striker has proved he still has the capability to perform at the highest level - scoring four goals - despite his side already suffering eight defeats this season.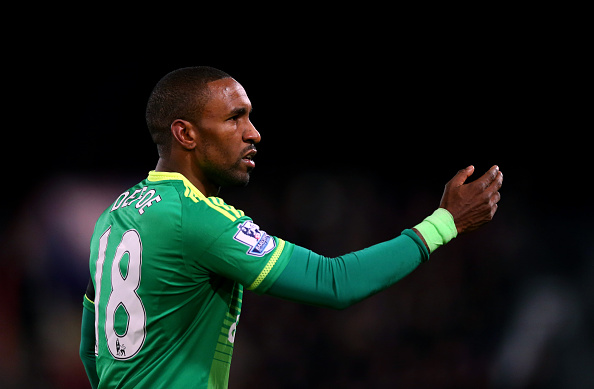 Defoe could form a prolific strike partnership with Oliver Giroud
Arsenal rely solely on Olivier Giroud to provide goals, but the Frenchman is not a typical number nine. The 29-year-old possesses similar traits to which Dennis Bergkamp displayed in a Gunners shirt for several years, dropping deep to provide an out ball for his teammates.
Bergkamp formed a strike-partnership with Thierry Henry that was arguably the best to grace the Premier League, causing Arsenal to win titles in 1998, 2002 and 2004.
It would be silly to suggest that if Arsenal did decide to bring Defoe to London that he and Giroud would form a partnership to rival the success of Berkhamp and Henry.
However, if the England international was to move in January, he could indeed help Arsenal clinch this season's title as the race is as open as ever, with Leicester City currently sitting in second place due to goal difference.
Defoe is unlikely to feature this weekend at the Emirates due to an ankle injury providing Arsenal's centre backs with a much easier game.
The England international scored the only goal of the game last weekend against Crystal Palace and is currently in a good spell of form.
The major comparison between Giroud and Henry is that the former has never scored more than 16 goals in a season whereas ex-Gunner Henry surpassed this number in every season but one.
If Arsenal are to win their first title in 12 years, they must buy an out-and-out striker to partner Giroud in the final third, that striker could in fact be Defoe.