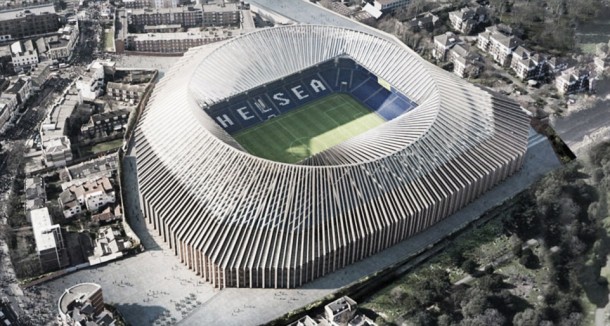 Current Premier League champions Chelsea have submitted plans to build a new 60,000-seater stadium at Stamford Bridge.
New beginnings
The plans for the new stadium consisting of 160 pages were submitted to the council for the London Borough of Hammersmith and Fulham on Tuesday with the plans outlining the demolition of Stamford Bridge and the surrounding buildings.
A deadline of Friday, January 8 2016 has been set by the council for any comments with the club stating that the planning process will last beyond the end of this season.
If given permission to go ahead the building process is expected to last around four years, costing a eye-watering £600million-plus. The Blues would look to start their new era at the beginning of the 2020-21 season.
Big changes
A statement on the club website stating that the "facilities will be improved for every area" and offer an "outstanding view" from every seat in an arena "designed to create an exciting atmosphere".
Stamford Bridge which was last developed back in 1990's has housed the club for 110 years but will be demolished along with the surrounding hotels, restaurants and health centre before work on the new stadium begins.
A club shop and museum will be rebuilt, alongside a new area touted as a 'restaurant/café' that could be utilised as a bar for supporters on matchdays.
The design team has been spearheaded by Herzog & de Meuron whose famous work includes Bayern Munich's Allianz Arena and Beijing's 'bird nest' stadium.
Moving home
It is believed that the club will be forced to vacate their 110-year-old home in 2017 for a three year period to allow the full demolition to commence.
Wembley Stadium is looking the likely to host Jose Mourinho's side during that period with it being reported that they are in advanced talks to move despite Tottenham Hotspur also looking at the stadium as a home during their own redevelopment.