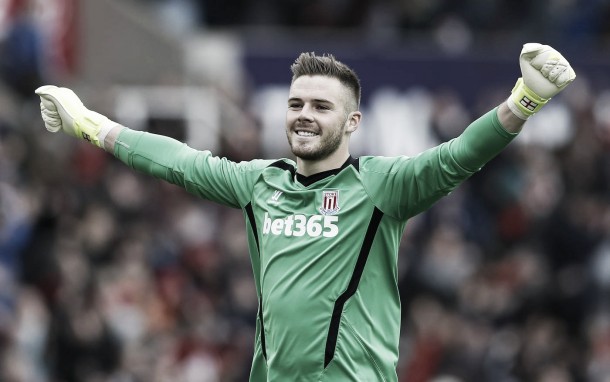 As Roberto Martinez and Everton look to life after Tim Howard, they have reportedly indentified Stoke City keeper Jack Butland as a potential transfer target.
Are Tim Howard's days at Goodison numbered?
As Tim Howard gets older, Everton know that they must replace the American goalkeeper at some point. He is 36 years old and realistically has a couple of seasons left as a Premier League goalie. He's played 14 games for the Toffees this season and has had four clean sheets. He's been inconsistent however. He's had some great games and some even greater saves but has made some bonehead mistakes. The equaliser in the 98th minute against Bournemouth was crushing to Everton fans and it was a save that Howard should have made.
Joel Robles is currently the backup for the Toffees and is relatively young as he is only 25 years old. Robles has played only in Cup ties as of late and will be the starting goalie against Middlesborough. He played in the Toffees Capital One Cup ties as they recently beat Norwich in penalties and was named man of the match. With Robles current form in the Cup and Howard's dip in form, it is surprising that Everton have not made the switch yet.
Does Butland have a future at Everton?
It will be hard for Jack Butland to come to Everton. First off, Everton are not the only team after his services. Liverpool are also reportedly after the English goalie and also consider the fact that Stoke think very highly of Butland. That's why they let Asmir Begovic go to Chelsea this summer because of their comfort in Butland.
Also considering his reported price tag might be too high for Everton to reach on. He is reportedly worth €17 million and if Everton decided to keep John Stones this summer, Butland might be outside of Everton's price range.