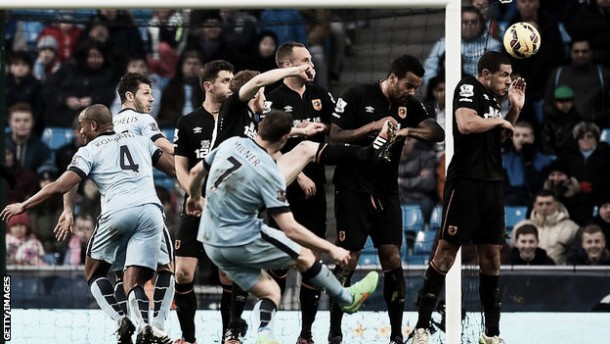 After two consecutive defeats at the hands of Liverpool and Juventus, the Citizens got back to winning ways with a comfortable display over Southampton last weekend. A new challenge is on the horizons though: a place in the last four of the Capital One Cup, with play-off hopefuls Hull City their opposition at the Ethiad.
Ahead of kick-off, I spoke to Aaron Irwin, an avid Hull City fan who is also the VAVEL F1 editor – for his thoughts as The Tigers travelled to Eastlands with a potential shock on the cards:
View from the Opposition: A Hull fan's view ahead of the Cup duel
Mosope: Good afternoon, Aaron. Firstly, how can Hull hurt City? Who are your danger men?
Aaron: Hull have been quality in defence this season, before this weekend's game we were level with Manchester United in terms of goals conceded, the least of any of the 92 league clubs in England.
But in terms of hurting City, at times their defence has looked rocky at best, with silly errors costing them points - Chuba Akpom and Abel Hernandez can definitely punish them should they need to. We have danger men all over, and even though we go into the game as underdogs we could still cause a lot of issues.
MO: Who will you be wary of at the Ethiad?
AI: When you have the type of squad City do, anyone is a threat. I personally am a big fan of Kevin de Bruyne. I've followed him closely since his Chelsea days and he's a huge talent, and of course the whole squad is ridiculously strong. Sergio Agüero, David Silva, Jesús Navas, Yaya Touré, Fernandinho and de Bruyne, all danger men up-front and frankly, despite our attacking capabilities, these players make me a little nervous to face City.
MO: Does form mean nothing in these types of fixtures?
AI: Of course cup competitions can serve as a nice distraction to the league, and with both Hull and City performing well in their respective leagues. Form is important to an extent as if you've just been beaten 2-0 at home, the last thing you'd want is an away trip to the Ethiad. However our form apart from this [previous result] has been fantastic, and I'm sure it'll be a fantastic game if both sides can provide a top drawer performance.
MO: We're almost at the halfway point in the league campaign, how have Hull fared?
AI: Well we sit fifth in the Championship, we were at the top before this weekend but a poor night against Derby on Friday has seen us drop to 5th place. It's tight at the top, and I'd say Hull have been the best side in the division – so far. I know that's a tad biased but we've genuinely shown promotion material and we've been solid in every area of the pitch. If we can continue to play like we are then I see no reason for us not to be champions at the end of the season.
MO: Will City rest their key players on Tuesday – or go all out?
AI: Part of me hopes they do rest their team, for the sake of our progress, but most of me says no. Because if we want to win this competition we need to beat the best, and with the teams still remaining in the competition I'd say City are the best, and therefore a strong team would be a good test for us – would really prove how much more work we need to do in order to secure a Premier League return and how to stay there.
MO: Who needs the victory more, and why?
AI: That's an interesting one; I wouldn't say that either team particularly needs the victory. City would like it but I'm sure they're much more focused on their Champions League campaign as well as the League, and may possibly see the League Cup as an unnecessary distraction. Hull would love another Wembley trip as it's very rare we get there, but surely Steve Bruce is more focused on getting us back to the Premier League and so I'd say Hull, but only just.
MO: Any obvious weaknesses to target in the City side?
AI: I'd say there are very few in a strong City XI. The defence can look shaky at times. Eliaquim Mangala and Nicolas Otamendi, as well as Vincent Kompany sometimes, so I'd say if Hull had to find any weakness it'd be in the backline. As I said earlier it has cost them some important games, and I'm sure should they have a lapse in concentration then our team could definitely punish them. Hernandez, Akpom, Maloney, Robertson and Elmohamady are all capable lads and you never know what could happen.
MO: Lastly, your predictions for the game? Of course I could sit here as a Hull fan and say we may sneak a win. My heart says we could nab a draw and maybe take it to penalties, securing another Premier League scalp on the way. But my brain is saying that City will have too much quality for us, and should Manuel Pellegrini play his strongest side, then our only hope is to keep the score respectable and try and get them on the counter-attack. I have faith in our defence, and I'll certainly be rooting for Hull on Tuesday night.
---
Many thanks to Aaron, who took the time out to speak to me ahead of the game.