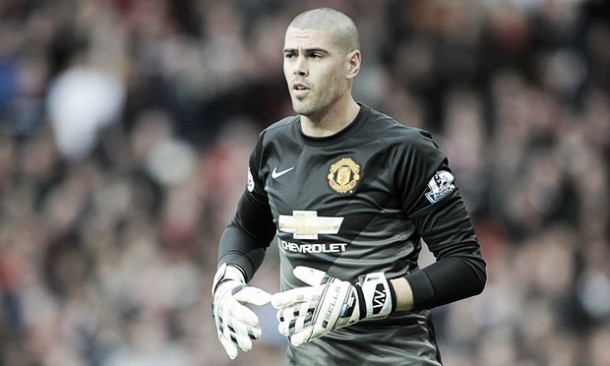 The wife of Manchester United's goalkeeper Victor Valdes has slammed the Red Devils from snubbing her husband from a club charity event.
Star-studded absentee
Sunday night saw Louis Van Gaal and his first-team squad come together after their disappointing 1-1 draw with Leicester City to raise a record £230,000 in their 16th annual UNICEF gala dinner but the former Barcelona man was not invited to the event.
Valdes' wife, Yolanda Cardona took to Instagram to criticise the clubs conduct in the treatment of her husband.
Underneath a picture taken at the event of Juan Mata, Marcos Rojo, Sergio Romero, David de Gea, Ander Herrera and their partners, she wrote: "Do not invite to my husband vicValdés1 to be part of the united4unicef , its the last thing you don't expect from one of the biggest club as manchesterunited. A Charity event, its always a Charity event."
Disastrous spell
United fought back against her criticism stating that the 33-year-old was not invited to the event as he was not a member of the first-team after only playing twice for the senior side after he signed a 18-month contract back in January.
It must have been a kick in the teeth for Valdes as United's UNICEF gala dinner is one of the most significant social events in the clubs calendar with the clubs association with UNICEF entering its 16th year the longest association of its kind between a sports organisation and a global children's charity.
End is near
It is fair to say that Van Gaal and Valdes have never seen eye-to-eye since arrival in Manchester with the Dutch coach stating that Valdes could leave the club last summer as he was accused of refusing to play for the Under-21 side.
He wasn't given a squad number at the beginning of the campaign and didn't take part in the first-team photo and has yet to train with the senior side.
It is extremely likely that he will move on either in January or next summer with three Spanish teams rumoured to be interested in his services in the last transfer window but refused moves back to his home country due to his commitment to his former side.