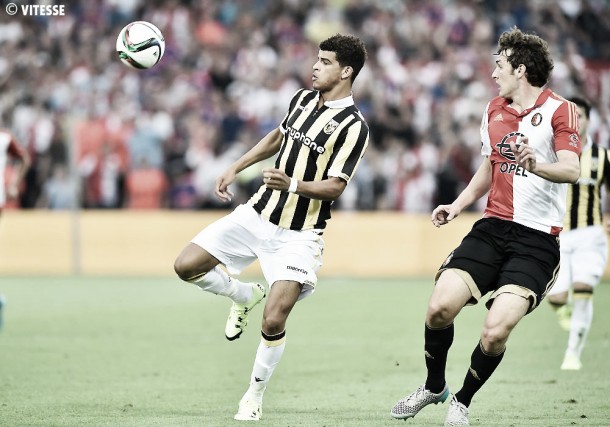 Chelsea have a large pool of talent ready to become stars on the world stage and none have impressed more than striker Dominic Solanke this season in the Netherlands.
High praise from Bosz
The 18-year old is enjoying a successful spell at Vitesse Arnhem in the Eredivisie and has impressed his coach Pete Bosz so much that he's been tipped for great success. Bosz spoke of Solanke's talent, saying, "You can see that he's incredibly talented...He has exceptional qualities. I have rarely seen such a talented young footballer, especially at that age."
Bosz continued by noting that the Englishman is "still learning" due to his age but he "really expects him to be a big talent."
Solanke has already made his first-team debut with Chelsea, coming on a substitute in a 6-0 win over Maribor in last season's Champions League campaign. With 41 goals last season at youth level, Solanke made the step up to consistent first team football overseas this season and has bagged four in 12 games.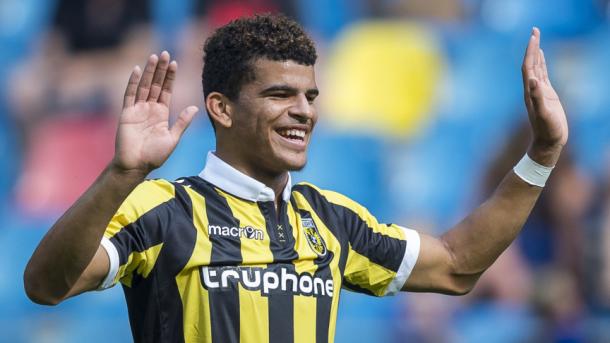 Destined for the top?
With his impressive performances for Vitesse, Solanke has emerged as a consistent starter for the Dutch side, much to the delight of Chelsea and their fans. At just 18 years old, he's enjoyed a positive start to his career and is expected to return to Chelsea next season to continue his development.
Solanke is arguably Chelsea's biggest talent coming through the academy ranks, alongside Ruben Loftus-Cheek, and his club will be hoping he continues this recent success while on loan. The future looks very bright for Solanke and with the encouraging words of his boss, he is set to thrive for the rest of the season.
The highly-rated striker is one of five Chelsea players currently on loan at Vitesse, accompanied by Nathan, Danilo Pantíc and fellow English youth stars Lewis Baker and Izzy Brown.