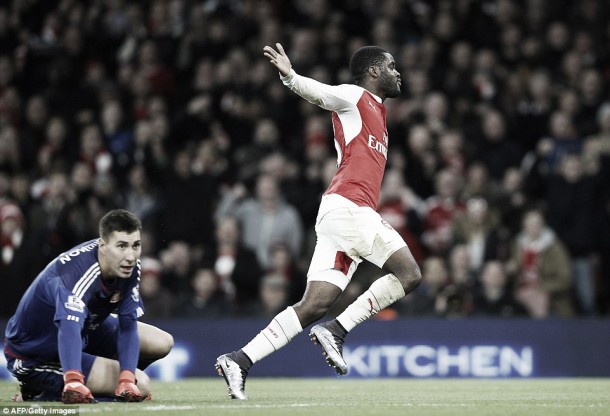 He has been at the club since 2011 but Joel Campbell has only very recently come to the fore in the Arsenal first team.
After various loans from Villarreal to Olympiacos, Campbell has been all over Europe in a quest to improve his game by gaining valuable experience of first team football at some top clubs.
After having options to loan Campbell out this season, Arsene Wenger chose to keep him at the club and this move seems to have proven correct. Injuries to the majority of the starting XI has seen the Costa Rican obtain a starting sport this season and is now finally looking confident on the wings, emphasised by how he opened the scoring against Sunderland at the weekend, but can Campbell pin down a starting spot for good?
Good and bad signs emerging this season
Against Swansea City all of his finest qualities were on show. From the off he was constantly terrorising Neil Taylor on the right hand side of the Swansea defense, cutting inside and driving at goal. He was combining beautifully with Hector Bellerin, allowing his Spanish counterpart acres of space to overlap. Then came the goal. Collecting a gorgeous cross from Mesut Ozil, Joel showed composure, confidence and brilliance in front of goal as he slammed the ball into the back of the net.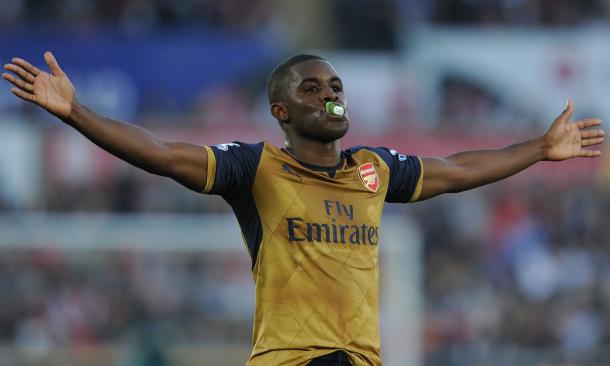 Full of confidence and seemingly match fit, the upcoming encounter with Bayern Munich was potentially set up to show Campbell was finally ready to represent the club on the biggest stage. It was anything but a fine night for him, however.
A woeful lack of fitness and defensive awareness caused the Arsenal right hand side to be torn apart by one of the most intelligent and well drilled sides in the world, and Campbell didn't help himself at all. He struggled to attack with any threat and offered Debuchy little support against the likes of Kingsley Coman. Leaving this space in behind meant Alaba and Coman, who purposely stuck to the sidelines, were allowed to exploit this space and take full advantage of a slower Mathieu Debuchy. His second half substitution for Kieran Gibbs summed up his woeful night.
Despite getting dropped after the Spurs game, where he did work hard to create, Campbell has seemingly found luck in Arsenal's sudden injury crises. The 23-year-old he has never had a better chance to impress than this current run and that he did, opening the scoring against Sunderland on Saturday.
What next for Campbell?
Firstly, he must keep trying to be creative with his passing. A beautifully weighted, deceptive through ball to Alexis Sanchez got Joel a wonderful assist against Dinamo Zagreb and he has since shown glimpses of that ability to thread a pass through the defense. However, he doesn't do it nearly enough and it is this consistency where he is perhaps lacking. If he can follow Mesut Ozil's example, who teed up his team-mate last weekend, he will definitely be able to pin down a first team spot at Arsenal this season.
Secondly, his fitness must improve. To be a Premier League quality player you must be as active in attack as you are in helping out the defense; to do that your levels of fitness have to be supremely high. One of the numerous reasons as to why Aaron Ramsey has secured a starting spot on the right for the last two seasons his his fantastic work rate, tracking back to help Hector Bellerin in the bigger matches throughout the season. When fully fit, the Gunners harbour a strong defensive unit and that also involves the wingers.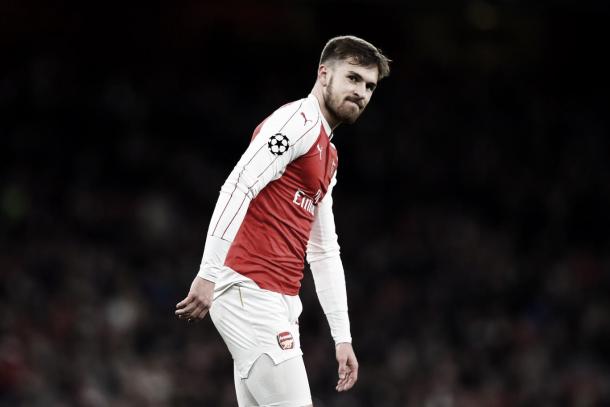 Finally, the former Saprissa man needs to maintain his flair and self confidence this season. There has been signs that he has been getting more confident though, asking for the ball in abundance against Spurs prior to the last international break, and a second goal in domestic football will only help in this respect.
Campbell has a lot of work to do before he can consider himself a starting line-up certainty when those injured return to the squad, but he does have to potential to prove many of the doubters wrong.