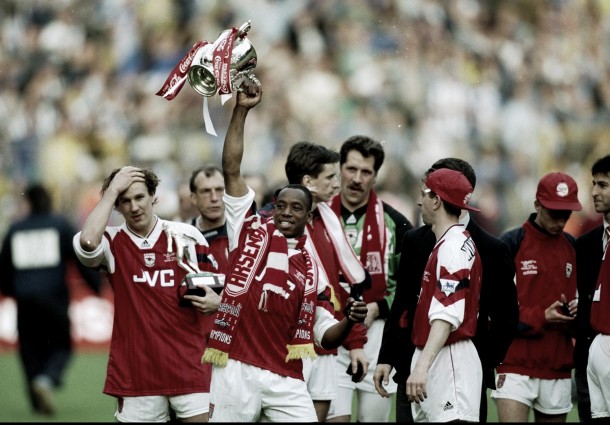 There's not a lot Arsene Wenger hasn't won in his career domestically. Three Premier League titles and a record six FA Cup wins make him one of the most successful managers in England, however, there's still one major trophy that eludes him: the League Cup.
Although Wenger has led Arsenal to two finals in 2007 and 2011 and has made semi-finals in four of his 19 seasons, he's been unable to lift the trophy.
Ironically, it's a competition that Wenger has perhaps had the most consistency in, making at least the quarter-finals every year between 2003 and 2013, yet, a victory in its final is yet to come.
Competition for youth
Since his arrival in England, Wenger has traditionally used the League Cup to give opportunities to youth team hopefuls before they are tried in the first team - players like Cesc Fabregas, Theo Walcott and Jack Wilshere all made their marks in the competition.
Fabregas became Arsenal's youngest competitive player in a League Cup tie against Rotherham United in October 2003, and later youngest competitive goal-scorer in the same competition against Wolverhampton Wanderers in December of the same year.
Although in some years, like 2004 and 2007, the youth players have gone far in the competition, losing the semi-finals to eventual winners Middlesbrough in 2004 and being defeated in the final in 2007 by Chelsea, their inexperience is what lost them those games. This was especially the case in 2007, when Chelsea chose to play a near-full strength side that included Petr Cech, John Terry, Ricardo Carvalho, Frank Lampard and Didier Drogba.
By comparison, Arsenal chose not to use a lot of first team players, despite it being a final, instead using a mix of youth players and fringe players with Manuel Almunia, Justin Hoyte, Armand Traore, Denilson, Jeremie Aliadiere and Julio Baptista given the nod.
Although Walcott bagged his first Arsenal goal to take the lead in the final, Drogba's brace won it for the Blues and Arsenal's inexperience in big games showed with Kolo Toure and Emmanuel Adebayor both sent off in stoppage time due to an unsavoury incident between the two teams.
Playing a full strength team wouldn't have guaranteed success against Mourinho's Chelsea, but it was clear Arsenal severely lacked leaders on the day.
Lack of priority
As well as playing the youth players, there seems to be a lack of priority towards the League Cup, something that their fellow rivals don't seem to exhibit, with both Chelsea and Manchester City securing a league and League Cup double in the last two years.
With Arsenal usually chasing at least a top four spot and being in the FA Cup and Champions League, the League Cup falls down their list of priorities and is largely not cared about.
Nowhere was this more evident than this season where, after losing two key wide players Alex Oxlade-Chamberlain and Theo Walcott to injury in the first twenty minutes, the team laboured to an embarrassing 3-0 defeat to Championship side Sheffield Wednesday.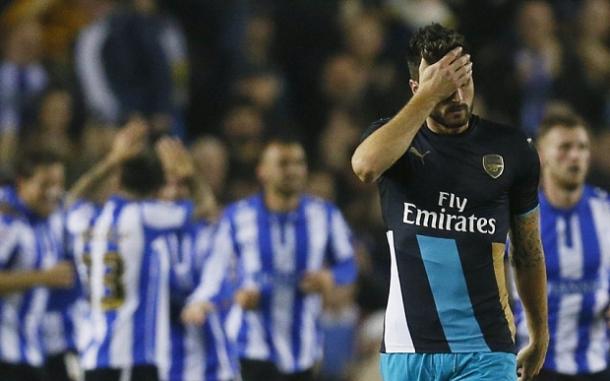 The Gunners were non-existent on the night and showed limited passion or determination as they were outclassed by their opponents from the division below, with sustaining a league challenge as well as progression in the Champions League far more important.
Although Arsenal have played strong line-ups in some later stages of the competition, this has only really come about in the last couple of years due to the near-decade trophy drought that plagued the club and the manager.
League Cup curse?
Although Arsenal won the League Cup twice under George Graham in 1987 and 1993, the Gunners' time in the competition is peppered with bad memories throughout, not just under Wenger.
The Gunners finished runners-up in the competition twice in succession in 1968 and 1969, the latter year embarrassingly being beaten 3-1 by Division Three's Swindon Town at Wembley, despite being overwhelming favourites.
Arsenal did win the 1987 competition thanks to a brace in the final from Charlie Nicholas after a well-remembered semi-final replay against Tottenham Hotspur, however, the following season, they failed to retain the trophy in the final as they lost 3-2 to Luton Town.
The Hatters' goalkeeper, Andy Dibble, was the hero on the day as he saved a Nigel Winterburn penalty in the game, but it was a late turnaround that stole the show, the now League Two club coming from 2-1 down with eight minutes to go - a second from Brian Stein and a winner from Danny Wilson giving them the win.
Steve Morrow would be the unlikely Arsenal hero in 1993 scoring the winner against Sheffield Wednesday to win Arsenal their second and, to date, last League Cup.
Morrow, however, ended up in hospital after the game when during the celebrations he was dropped by captain Tony Adams, who had Morrow on his shoulders.
It resulted in a broken arm for Morrow but could have been a lot worse; it did mean the Northern Irish defender missed both the FA Cup final and its replay, also against Wednesday, which Arsenal won regardless thanks to an extra-time winner from another unlikely hero, Andy Linighan.
Arsenal's next cursed League Cup moment would come in the 2011 final when a mix up between goalkeeper Wojciech Szczesny and defender Laurent Koscielny allowed Birmingham City substitute Obafemi Martins to score the winner in the 89th minute.
Again, the Gunners were overwhelming favourites against Birmingham, who would later be relegated from the Premier League at the end of the season, and it seems whenever they get close in the League Cup, something is bound to go wrong.