 With Claudio Ranieri's Leicester City surprisingly leading the Premier League table by two points, there are opinions out there to suggest that the Foxes could go all the way.
After only just avoiding relegation to the Championship under Nigel Pearson last season, not many saw this outstanding form (in which they have taken a total of 32 points) coming so these claims seem a little without substance.
However, to the dismay of some supporters, one man who seems to disagree with claims that the Midlanders could possibly lift their first ever English top-flight title this season is Algerian winger, Riyad Mahrez.
Grounded
With his team undefeated in nine games since their 5-2 defeat to Arséne Wenger's Arsenal in September, it would be understandable to see the former Le Havre man getting a little carried away. Nevertheless, fresh from scoring his maiden career hat-trick in Leicester City's 3-0 win over Swansea City last weekend, the 24-year-old is staying realistic.
Echoing the thoughts of his Italian manager in an interview with BBC World Service, the midfielder (who has already scored 10 goals in the League this term) has insisted that his team-mates are only targeting "40 points" so "will not win the league". However, with the Foxes edging nearer and nearer to this particular target, the Algerian has stated that "we will see" what the Foxes can achieve if and when this barrier is passed.
Flying fox
Furthermore, Mahrez is also not allowing his own form to get ahead of him this campaign. After starting the season in outstanding fashion, having scored five goals in his first five games, the mercurial winger has not allowed his high standards to drop.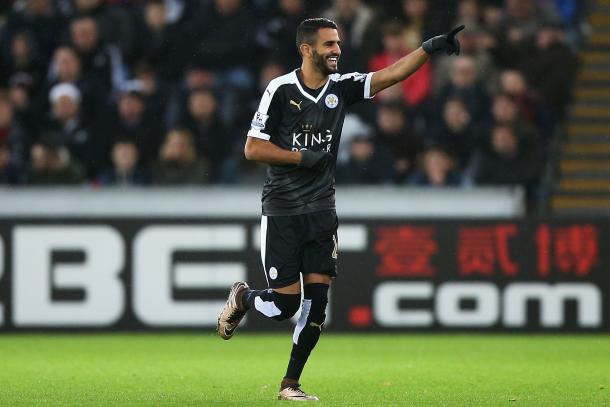 Mahrez has been in terrific form for the Foxes this season (Photo: Getty)
As a result, the popular winger has already broken numerous personal records this campaign and has even attracted interest from some of the planet's biggest clubs. But, citing "confidence" as opposed to anything else as his main reason for his astounding form, the Algerian has attempted to decrease the hype surrounding his talents.
Nonetheless, the French-born midfielder also made it clear that he has always had belief in his own abilities; highlighting that he is not "surprised" at his unbelievable progress since moving to the King Power Stadium in January 2014 for approximately £400,000.