 Former Sunderland and Brighton & Hove Albion boss, Gus Poyet, has moved quickly to rule himself out of the running to replace Garry Monk. This comes after the Welsh manager was relieved of his Swansea City managerial duties on Wednesday, with the club keen to appoint a new boss as soon as possible.
Poyet enjoying his time in Greece
Poyet is currently in charge of Greek side AEK Athens and is enjoying a successful spell on the Mediterranean. They may be some way off Olympiakos, who have won every single game in the league this season, but currently lead the chasing pack with a respectable 26 points from 13 games. Led by leading goalscorer Christos Aravidis, a former Sunderland man himself, Poyet's side look on course to second spot in the Super League, if early season form is anything to go on.
Speaking to the media, he branded the rumours as "nonsense". He added, "These stories come out when the team are in a decent form and the results are good. If AEK didn't go well, my name wouldn't be linked. I'm not in a hurry." Poyet, who was close to being named Swansea boss in years gone by, said he was "waiting to see how the things are going" because "you lose time when you consider what the future will bring".
No contact has been made - Poyet
He ended with a rather sarcastic comment, "I have made no contact at all. Today also I was informed that a paper wrote that Reading are interested in me as well. Maybe you know more than me." So, going by that, it looks very unlikely that he'll be the man to take Monk's place at the helm of the Swans.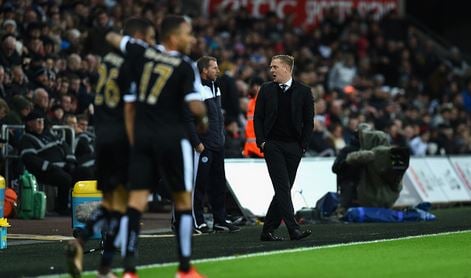 While the Uruguayan has said he is happy for the moment, a strike by Greece's top two divisions over pay disputes could may well sway him on a move back to England. Problems have been brewing with players not being paid for months, and the indefinite strike action will commence on December 15th during the next round of cup games.
Quotes via South Wales Evening Post