It was a dreary affair, but Liverpool's 0-0 away draw against FC Sion on Thursday evening ensured that they progressed from Group J as Winners in the Europa League, edging out the Swiss club by a single point.
Despite it not being an inspiring group stage performance, as the Reds won two and drew four of their six games, it was enough, and they'll still be amongst the favourites for the competition when it gets back underway at the round of 32 stage in February - but who could Liverpool face in that round, when Monday's draw is conducted?
The Europa League round of 32 is split into seeded teams and non seeded teams. The 12 group winners are seeded, plus four teams that drop down from the Champions League. Those that aren't seeded are the 12 runners up, plus the four Champions League dropout's with lower co-efficients than those that are seeded.
You can't play a team that qualified from your own group, or one from your own nation in the round of 32, which rules out both Tottenham Hotspur and Manchester United, as well as Sion.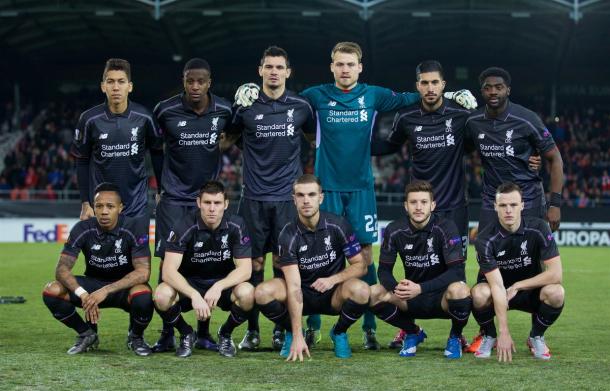 Reds could face easier tie thanks to winning Group J
Due to topping their group, Liverpool could face some fairly comfortable ties come the new year. Anderlecht, FC Midtjylland and Sparta Prague are all comfortable looking ties which the Reds would be overwhelming favourites in.
Marseille and Saint-Etienne are also potential opposition which Jürgen Klopp wouldn't be disappointed to see drawn out of the hat, due to neither team being what they once were, and a trip to France being preferable to a long haul flight to Turkey, Russia and the like.
Despite these easier looking prospects, it should be remembered that Liverpool have been dumped out of Europe by smaller sides before, with Sporting Braga's victory over them in the Europa League round of 16 four years ago springing to mind.
There's potential for tricky ties
Things could be quite difficult for Liverpool, should the luck of the draw go against them. This is in part to some teams surprisingly finishing second in their groups, and some strong Champions League dropout's not being seeded in the draw.
One of those sides comes in the form of the Europa League holders, Sevilla, who came third in their Champions League group. They'd make for extremely tough opponents, as could Gary Neville's Valencia, who also came third in their group.
Fiorentina, Galatasary and Sporting Lisbon are some of the tougher runners up, but the most exciting prospect is surely a tie against Klopp's former team, Borussia Dortmund.
The Bundesliga outfit came second in their group despite being favourites for the competition, and the potential to come up against their most loved boss just months after he left is an exciting one. We'll have to wait until Monday to find out if it can be realised.
Potential opponents: Borussia Dortmund, Valencia, Sevilla, Fiorentina, Marseille, Fenerbache, Galatasaray, Villarreal, Saint-Etienne, Sparta Prague, Shakhtar Donetsk, Augsburg, Anderlecht, Sporting Lisbon, Midtjylland.