 It was a disgraceful night for Manchester United Football Club. Back home, their noisy neighbours turned around a two-goal deficit against German opposition to run out group winners and have every chance of a long run in Europe's elite club competition.
Louis van Gaal, for the first time, visibly showed his frustration but also the gutting feeling, shared with any United fan watching. Reddened in the face as the full-time whistle went he got up from his seat to shake an air punching Dieter Hecking.
Not for the first time in his career, van Gaal is facing a fan backlash. At Barcelona, he was hated by the fans and media while at Bayern Munich the same thing repeated itself. Now with a fan base who are traditionally more patient, in United, he has divided them.
United lost 3-2 to the German league's 5th placed Vfl Wolfsburg this week. A superb finish from Anthony Martial, celebrating his birthday in the days before, was a thrilling and surprisingly quick start from the Reds. Yet with attacking football came defensive instability and Wolfsburg hit back immediately through defender Naldo at a free-kick.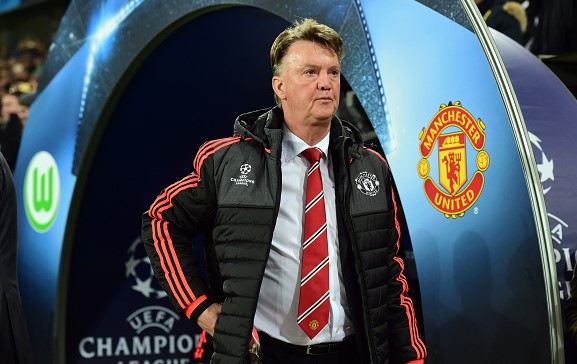 The Wolves took the lead and United took the initiative, breaking clear at any opportunity and looking to get themselves the win necessary to take them through. Marouane Fellaini continued to come close, as well as Memphis Depay and Jesse Lingard. Yet United could not get past the Wolfsburg defence and goalkeeper.
Van Gaal spoke of luck in previous weeks, and United got it last night. Fellaini's header was flicked into the net by the Wolfsburg defender, but still there was a sticky mess. United conceded straight away, again from Naldo in a shocking display of concentration, professionalism and composure.
Now, Louis van Gaal faces the toughest time in his United career. But he's done it before and is doing it again, even if it is painful and hard to realise.
Ajax
Titles and the Champions League with the youngest squad to win Europe's elite club competition left van Gaal with a huge reputation at Ajax. Not only was success on the field stunning, the style of play was too.
In his book, Brilliant Orange, David Winner described that Ajax side; "The players and passes flowed with such blurring speed and precision that it sometimes appeared as though they were shuffling the surface of the pitch, the way an experienced dealer handles a pack of cards."
Winner's description of that van Gaal side may come as a surprise for United fans currently watching a repetitive and predictable team.
At Ajax, van Gaal perfectly achieved his desired 'philosophy', of which he continually refers to in, often entertaining, news conferences.
It was the last time a Dutch side dominated European football, but van Gaal hasn't left a direct philosophy in Amsterdam. The memory of the last glory days of Dutch football lingers softly and beautifully in the air for Ajax, but that most spectacular side disbanded quickly and has not been replicated.
Barcelona
It is arguable, mildly. Yet the majority will appreciate that van Gaal set up Barcelona, Europe's best club for the past decade.
The things that are currently irking United fans, the falling out with star players and the quick-sale of unwanted men as well as smaller matters like the constant focus on his notebook, are what irked media and fans in Catalonia in the late 1990s.
Van Gaal managed Barcelona on two occasions; between 1997 and 2000 and then 2002 and 2003.
In his first spell, unlike at United, he won and then retained the title in his first two seasons, as well as a single Copa del Rey victory. His philosophy was installed far quicker with a set of players of better quality than the United squad he inherited.
---
MORE:
Rio Ferdinand 'embarrassed' by United Champions League exit
Chris Smalling and Matteo Darmian injuries compound United's European exit
---
In the weeks approaching his first exit from the Camp Nou, van Gaal declared his desire to shape a Barcelona team of eleven academy graduates. Derided at the time, much like with some of his statements in the press at Old Trafford, van Gaal will have been satisfied in 2012 when it was achieved by Pep Guardiola.
It was Guardiola who reaped the rewards of van Gaal's work. Coached by van Gaal in both spells, Guardiola learnt off the imposing Dutchman as he introduced a long-term style of play that still lasts.
Watching Barcelona as they lifted a fifth European Cup/Champions League in 2015, their fourth since van Gaal left, there were all the hallmarks of van Gaal's philosophy. Juventus couldn't cope with the high intensity of Luis Enrique's side. Full of energy, with a high line and high pressing as well as a key focus on possession and quick movement, as mentioned by David Winner of his time at Ajax, Enrique's side was his, but also van Gaal's.
Despite success, issues were prominent at the Camp Nou. Given the endearing nickname of 'Hitler' by Brazilian star Rivaldo, van Gaal fell out with numerous players.
At the same time, fans could not be appeased by league titles as their local boys from Catalonia were evicted by a ruthless van Gaal, much like with Danny Welbeck from Longsight, Manchester.
The fans didn't like van Gaal, in fact, many of them hated him. Nor did some of the players, yet a process happened and a philosophy was instilled and a period of domination succeeded his time.
Guardiola learnt, as did Luis Enrique. Even more so, Carlos Puyol, Victor Valdes, Xavi Hernandez and Andres Iniesta. The four youngsters were given debuts by van Gaal and made part of the team. Xavi, Puyol and Valdes have all left the Camp Nou now but represent the spine of one of the greatest football teams, and most entertaining, of the century.
VAVEL UK spoke to Barcelona fan and co-founder of website Grup14 who look to make the club more transparent in its dealings. Looking back on van Gaal's time at the Camp Nou, Rafael Hernandez said, "he came to the club after becoming one of the most respected managers in the game at Ajax, but Barça were in a difficult time in its recent history, with the usual political and sporting struggles intensified by poor results on pitch. The club was struggling even before Cruyff left in 1996, even if Bobby Robson did a decent job. The Dutchman went to win two league titles in a row, which brought some relief to the board but his clashes with the media meant that there was a persistent unrest. In his first spell, Puyol made his debut for Barça, same for Xavi, and in his second unsuccessful spell Louis van Gaal still went to contribute by fielding Valdés and Iniesta for the first time.
"Domestically it was a success, but he failed in the Champions League. Still, he brought trophies the club needed and had a hand on important La Masia players debuts. Unfortunately, his problems with the media meant that he's hated by part of the journalists in Catalonia, which influences fans too. I think his legacy deserve better, even if things weren't rosy.
Van Gaal did produce a philosophy at Barcelona, but Hernandez says the style of play wasn't as entertaining as at Ajax, "It wasn't spectacular like the wonder football practiced by Ajax, the man himself admitted he failed to implement his footballing philosophy at Barça due to cultural differences."
"It was far from a pleasant style, and it relied on a pragmatism that would be considered a cardinal sin at the club nowadays. Barça were rigid as Manchester United are under his guidance and the fans were mostly unhappy, even title celebrations weren't that big considering the club was in theory leaving a slump in the league."
"They [Barcelona] aimed a repeat of what Van Gaal did at Ajax, focusing on youth players and key signings which could lead to success not only domestically, but in Europe too, like Cruyff's success at Wembley in 1992. He brought half a dozen players with him directly from the Dutch club, which led to criticism and needlessly clashed with Rivaldo, the club's main star, but claiming that a project existed in that mess by Josep Lluís Núñez [club President at the time] would be wrong, or at least beyond any sensible manager."
Bayern Munich
Revolutionary van Gaal fronted the fans and media at Bayern Munich. A treble was stopped only by Jose Mourinho in the Champions League final as the 4-2-3-1 formation was used for the first time by a top European club.
Bastian Schweinsteiger protected the defence, alongside Mark van Bommel. There were full-backs looking to overlap in Phillip Lahm, encouraged to do so for the first time under van Gaal.
It was a formation new to European football with a new role for every player. Lahm's type of full back hadn't been seen before and the two defensive midfielders combining to shield the defence were picked up by managers across the continent.
The Bayern situation is most similar to United, without success at the latter. There has been no silverware for van Gaal at Old Trafford.
The first season was superb, with van Gaal lifting the double, finding a gem in Thomas Muller and playing him over 50 times. He changed Schweinsteiger and Lahm's roles and ultimately changed their careers, and possibly the future of the German national team, to be kind.
The second season was poor, hugely. The defence evaporated as Martin Demichelis was sold and the goalkeeper was dropped without explanation and without a second's thought, i.e Victor Valdes.
Van Gaal was sacked and his time deemed a failure as Jupp Heynckes arrived and won the treble, making Bayern the best team in Europe.
Yet Lahm, Schweinsteiger and David Alaba were vital in that team, players genuinely changed for the better by van Gaal. Bayern had a way to play football and to teach the youngsters and it worked for Heynckes. Pep Guardiola then built on that, as he did at Barcelona, with the foundations to play attacking football and possession football in tandem.
Van Gaal left Bayern with little fans, aside from a selection of players like Muller and Schweinsteiger. He left them near the relegation zone but somehow, strangely, in a good position.
Manchester United
There is no way to deny that football is drab and often painful to watch, there have been some atrocious decisions made and it would probably be better had van Gaal not spent so much money on some ultimately average players. However, United are being changed for the good.
Van Gaal was given a difficult job, the most difficult in his career. Yet his job description was not to win the Champions League or even the Premier League right away. Instead, it was to be rebuild football's biggest club and biggest brand without the risk of losing that status.
The task was huge and still is, with plenty left to do. Yet it was a necessity. Immediate success would have been superb but combining the two mighty tasks is incredibly difficult, even for Pep Guardiola.
Barcelona fan Rafael Hernandez says United fans need to appreciate what van Gaal is doing. "We don't know much about what's going on inside Manchester United aside from 90 or 180 minutes every week," Hernandez told VAVEL. "The club is undergoing an immense renovation after Sir Alex Ferguson left, he had his own methods and some were naturally outdated, not that he left an aging/weak squad, but a natural consequence as he helmed the club for a large period. The media are briefed on certain matters and that's what we hear aside from supposed "leaks from the dressing room" that are occasionally published on tabloids.
"Van Gaal has addressed defensive problems on pitch, that is clear, and he's still looking for cohesion on the midfield but that should come eventually, especially if he gets a break with injuries." When VAVEL asked Hernandez, as a neutral, whether van Gaal could lift some silverware at United, he said, "Yes, but he needs to discover what's his best midfield and sign a world class forward if he continues for another season. The Premier League is wide open this season, if the goalless draws start to turn into wins he has a chance, same for the lottery that are knockout competitions. Fans hate the Europa League and consider it a joke, but winning a European trophy would be great, and would bring the opportunity to face the Champions League winners in the European Super Cup. It's about the mentality of English fans, but I do take these competitions seriously and would view winning them as positive."
Constantly changing manager is a bad way for Manchester United to head. Van Gaal has the faith, at the moment, of the board because they know he is achieving what he set out to do.
United, somehow, have a chance to win the title this season despite poor football. Chelsea refused to undergo this period, as have Liverpool. United may not win anything during van Gaal's tenure but if the past repeats itself, which it has down thrice, United may be the best team in Europe in the next decade; although it's hard to believe just right now.